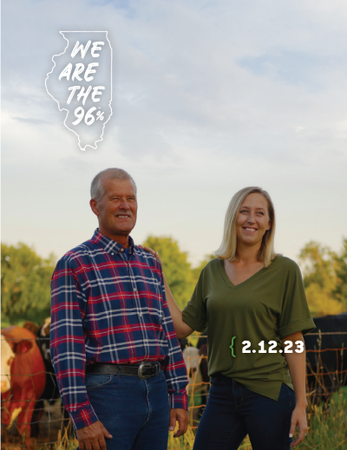 Super Bowl Ads Put Spotlight On Illinois Farmers
Kane County Connects Staff 1/25/2023 4:00PM
​

It's not difficult to find the connections between farming and football, from the cowhide used for game balls, to the food consumed at tailgates to the turf the game is played on.
This year during Super Bowl on February 12, Illinois farmers will be in the spotlight during a series of ads highlighting the 96% of Illinois farms that are family-owned.
"The ads and commercials are supported by the Illinois Farm Families coalition, a working group of the Illinois Farm Bureau and five commodity groups," said Kane County Farm Bureau Manager Steve Arnold. 
A recent survey showed consumers believed more than half of the farms in Illinois were owned by corporations.  Arnold said that the ads – part of the "We Are the 96" campaign- are aimed at educating consumers that the majority of farms in Illinois are still family-owned.
Arnold said the "We Are the 96" ads will run during the first half of the Super Bowl in Rockford, the Quad Cities and in downstate locations but not in the Chicago market.
"We hope to be able to get permission and a link so we can schedule a Facebook post for the evening of the big game."
Advertising will continue through the month of June with five different television ads airing across the State of Illinois.
To learn more about Illinois' farmers watch this video:  https://www.youtube.com/watch?v=Oq6nE-srivM.
To learn more about Kane County's Farmland Protection Commission visit:

https://www.kanecountyconnects.com/article/GrowInKane-kanecountygovernment-farmlandprotection-farms-kanecounty-environment
​