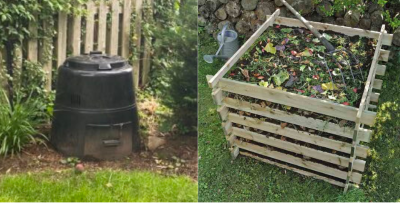 Include Composting During Spring Yard Waste Cleanup
Clair Ryan, Kane County Recycling Coordinator 3/13/2023 6:00AM
​

April showers bring May flowers… but with those flowers come lots of leaves, tons of twigs, bunches of brush, and wads of weeds! Turn all that yard waste into copious compost and mountains of mulch! 
Kane County Recycles has the information you need about residential yard waste and brush collection all up to date and in one place on Kane County's revamped Landscape Waste page. Most curbside yard waste collections start in early April, though a few start in March. Check the provided links for the exact start date in your town. Also, if you normally have to put stickers on your bagged yard waste, check to see if your municipal program includes any free spring cleanup days. For example, North Aurora is allowing residents to put yard waste bags out without stickers for the first two weeks of April.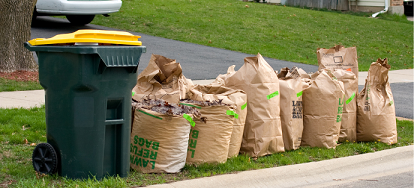 While updating the Kane County Recycles website, I learned that many communities handle yard waste and brush collection a bit  differently. To be collected as yard waste, woody debris or trimmings have to be relatively small in diameter, and tied into bundles no longer than 4' long and 50 lbs. in weight. Bundles need to be tied with string, twine, or natural fiber rope, not with wire. Residents should check with their hauler for the exact allowable specs for brush bundles.

Some townships and municipalities run parallel brush pick-up programs, usually for larger tree limbs or branches. These programs are intended to collect limbs that come down during storms or that are pruned by homeowners. They are not intended to substitute for proper cleanup after a professional tree removal. Specifications for these programs vary widely - follow the brush program links on the right side of our page to get local information.
Another great reminder for the start of composting season is that several communities in Kane County allow residents to mix certain food scraps in with their yard waste for composting. The Kane County Curbside Food Scrap Collection website has been updated as well. In participating communities, residents can put fruit and vegetable trimmings, bread, pasta, rice and other grains, coffee grounds, eggs and egg shells, and dairy (non-liquid) in with their yard waste. Residents should not put meat (raw or cooked), oil or other fats, liquids, paper goods, compostable packaging of any kind, pet waste or diapers in with their yard waste.
A final springtime reminder, especially for those who don't have a food scrap service, is that the cheapest and most environmentally friendly way to deal with yard waste and food scraps is to compost at home! Stay tuned for information about Kane County's annual spring composter and rain barrel sale, coming soon!