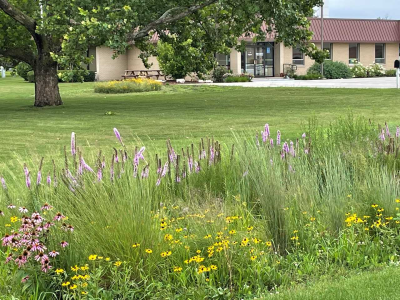 Illinois-Shaped Pollinator Garden in the Works in Kane County
Kane County Connects Staff 8/24/2022 10:00AM
​

Did you know that one out of every three bites of food we eat depends on pollinators?

The Kane County Farm Bureau will expand its ​​pollinator rain garden to one in the shape of the State of Illinois, and is inviting the public to help plant on September 1 and 2 at its St. Charles location.  When complete, the expanded garden will include 1,000 native plants 

​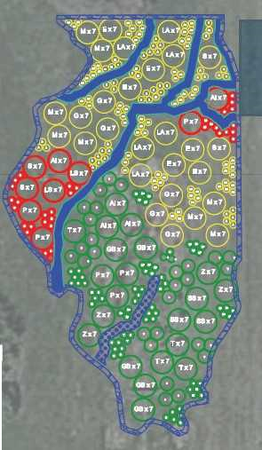 At a recent Agriculture Committee meeting of the Kane County Board, Kane County Farm Bureau Manager Steve Arnold spoke about plans for the unique addition to the County''s landscape.
"​​​We all understand the importance of protecting pollinators," said Arnold.  "Our plan is to expand it from the current 350 square feet to approximately 3,500 square feet.  The Mississippi, the Rock, the Fox, the Illinois, the DesPlaines, the Kankakee and the Kaskaskia Rivers will all be ​featured and will all be used to drain water through the pollinator rain garden and will also double as walking paths in the garden once it's expanded."​

The Farm Bureau received grant money for the project from a number of sources including the ​ComEd and Openlands Green Region Program grant ($10,000), Kane County Farm Bureau Foundation  ($10,000) and the Illinois ​Farm Bureau Pollinator Conservation Grant Program ($9,000).  In addition, Arnold said several local partners will provide in-kind services toward the pollinator rain garden.
The garden also will include interpretive signage for the native prairie, pollinator and wetlands plants that Arnold hopes will help increase ​foot traffic.

"By putting interpretive signing in we hope to increase the educational value and also get people to use the walking paths and see more of the garden."

​The public planting will be held on Thursday, September 1 and Friday, September 2 from 9:00 a.m. - 4:00 p.m. at the Kane County Farm Bureau located at ​​2N710 S Randall Rd, St. Charles, IL 60174.​  The public is invited to help for an hour or two or the entire day. 

Arnold added that those who help with the public planting will get a ​pollinator guide, t-shirt​, lunch, beverages and snacks.  

​Visit www.kanecfb.com​ for more informaiton or call 630-584-8660 for more details.
​




​