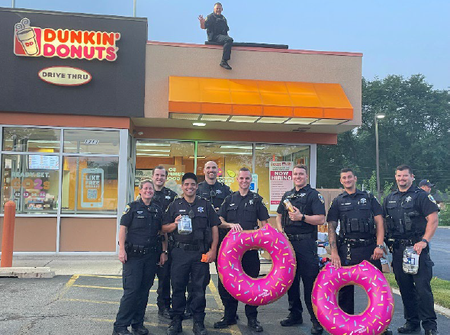 Police Participate in 'Cop on a Rooftop' for Special Olympics Illinois
Kane County Connects Staff 8/17/2022 8:00AM
​
Police departments throughout Kane County will be taking part in the "Cop on a Rooftop" event, scheduled for August 19.  This is a statewide effort by law enforcement to raise money for Illinois Special Olympics.


Some of the police departments in Kane County that will participate at the following Dunkin Donuts locations include:
​St. Charles Police Department:  1711 W. Main St. and 1566 E. Main St. 
Batavia and Geneva Police Departments: 2002 W. Wilson St. in Batavia and 108 N. Batavia Ave. in Batavia

Gilberts Police Department:  315 E. Higgins

Carpentersville Police Department:  2270 Randall Rd.

West and East Dundee Police Departments:  892 E Main St., East Dundee
Sugar Grove Police Department:  442 IL-47, Sugar Grove

Elgin Police Department:  95 Clocktower Plaza and 3191 US Route 20
North Aurora Police Department:  South Lincolnway and Genesis Way off of Orchard Rd

​Check out individual police department websites and Facebook pages for additional information on times and special giveaways.