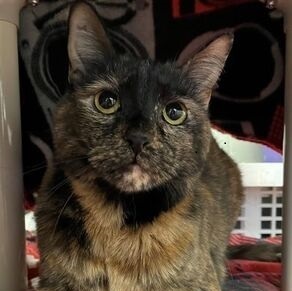 Pet of the Week
Tecla Metzel of Kane County Animal Control 2/26/2023 6:00AM
​

Tulla is a cat that likes her privacy.

Oh, she can be as social as the next cat, but for her everyday living circumstances, just give her the space she needs. When she's hanging out under a table or a bed, just let her be. She'll come out soon enough.

You might think from this description that Tulla is one of those non-social felines that their owner never sees.

"Yeah, I have a cat, but no one's seen her for years. I even forgot what she looks like. I know she's still around though 'cause of the cat hair on my chair."

That's definitely not Tulla's disposition!

She is a sweet 3-year-old tortie-point Domestic Shorthair that loves getting human scratches and belly rubs. Although she craves a quiet atmosphere, she does just fine when there are other cats around. It's just not her ideal living arrangement.

Her preference is to keep to herself even when she's out lounging around watching television with her person. She will likely thrive in a quiet home with an owner that will take some time to sit with her, scratch her belly and tell her stories.

Tulla's ready to go home. Are you ready for her?

KCAC Update
Congratulations to Broccoli, the 1-year-old brown, male Domestic Shorthair, who finally found his fur-ever home. Broccoli will get to hold long conversations with every member of his new family. All of his cuddling days are just beginning because he will have his choice of whose lap he will spend his days napping on. Enjoy your new surroundings, Broccoli, and revel in every second of your expansive life!

How to Adopt
For more information regarding Kane County Animal Control's adoptable animals and for an adoption application, please go to www.kanecountypets.org.

All Kane County Animal Control adoptable cats and dogs are spayed/neutered, microchipped and up-to-date on all vaccines including rabies. They are tested for feline leukemia/FIV and heartworm.

The adoption fee for dogs is $200 and $100 for cats. Adoption of two dogs is $300 and it is $150 to adopt two cats.    ​​​
"A cat gives mystery, charm, suggestion." – L.M. Montgomery, Canadian author, Anne of Green Gables