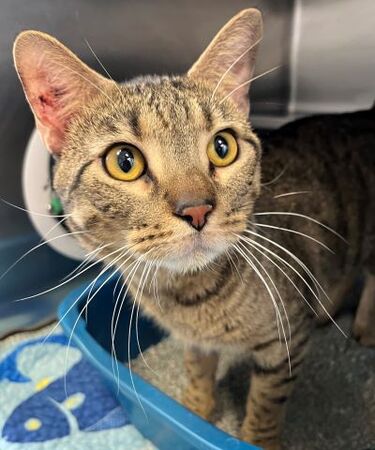 Pet of the Week
Tecla Metzel of Kane County Animal Control 2/19/2023 6:00AM
His name is Broccoli after all.

I mean, who names a cat after a green vegetable that looks like a bush and at just the mere mention of it for dinner, moves children to pack their bags and run away from home if they're forced to eat it? 

Kane County Animal Control (KCAC) evidently does because Broccoli is the sweetest, nicest cat you would ever want to meet. Never mind his name or the image it conjures up. His personality alone will put your heart purr-manently in love with him.​​

This 1-year-old, male, neutered brown Domestic shorthair will become your best friend for the rest of his life. He practically guarantees it as he, without invitation, cuddles with you and eventually makes your lap his favorite napping residence.

Broccoli came to the shelter as a stray. When he arrived dirty and disheveled he had very filthy ears and had developed wounds from scratching so hard. After some work with our veterinarian as well as some good nutrition, his ears healed and finally became ready to find his fur-ever home.

Broccoli is a talker. When he isn't sleeping, he loves having engaging conversations with whoever will listen. Did you have a hard day at work? Broccoli will take the time to listen to your woes as long as you spend the night cuddling. Want to gossip​ about the people in the neighborhood without the word getting onto social media? Broccoli keeps secrets and doesn't own a phone!

So, if you are looking for a companion to follow you to the ends of the earth as your best friend, come meet Broccoli! He will calm your nerves and feed your soul.

KCAC Update
Congratulations to Piper, the 1-year-old black Labrador retriever-mix that has a lot of energy. Piper found his forever home that came with a built-in brother to help guide him into adulthood. Not a dog to sit still for long, Piper can finally run with the wind for as long and as hard as his little legs will take him. We believe in you, Piper!

How to Adopt
For more information regarding Kane County Animal Control's adoptable animals and for an adoption application, please go to www.kanecountypets.org.

All Kane County Animal Control adoptable cats and dogs are spayed/neutered, microchipped, up-to-date on all vaccines including rabies. They are tested for feline leukemia/FIV and heartworm. ​

The adoption fee for dogs is $200 and $100 for cats. Adoption of two dogs is $300 and it is $150 to adopt two cats.    
"Like all pure creatures, cats are practical." – William S. Burroughs, American writer and visual artist​