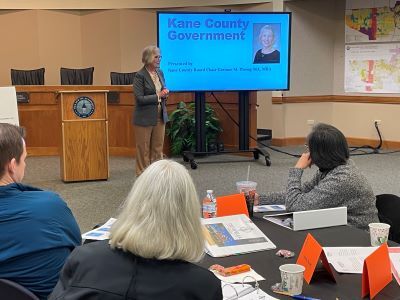 Kane County Chair Explains County's Role in Government
Kane County Connects Staff 1/24/2023 9:00AM
​
Kane County Board Chair Corinne Pierog took an in-depth look at the operations of county government during a presentation before participants of the Ted Spella Leadership School in Algonquin. According to its website, the school is named after former Algonquin Village President Ted Spella and seeks to bring together a cross section of individuals who are eager to expand their community involvement.  This includes participation of "up and coming" leaders as well as existing leaders who want to enhance their role in the community. 
Chair Pierog talked about the key programs and services Kane County government provides, the issues tackled by County Board members and how the County spends its 4% portion of property taxes.  Pierog ended her comprehensive overview of County government by sharing upcoming goals that include the expansion of workforce housing, the assessment of the drinking water supply and working collaboratively with surrounding counties to attract jobs and development as part of the Chicago Region Economic Partnership.
To learn more about Kane County Government, click here​.
To learn more about the Ted Spella Leadership School, click here​.​