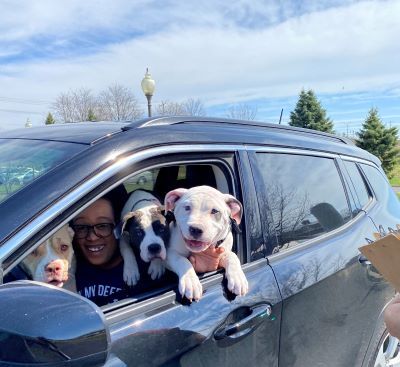 Pet Owners Line Up for Convenience and Ease of Kane County Drive-Thru Clinic
Kane County Connects Staff 4/17/2023 3:00PM
​

Dozens of dog and cat owners alike came out on a Saturday for the first Kane County Animal Control (KCAC) Drive-Thru Microchip and Rabies Vaccine Clinic of 2023.
"This was a very successful clinic and the people really love that we do this," said KCAC Administrator Brett Youngsteadt.
Staff provided 103 rabies vaccines (84 dogs and 19 cats) and 28 pets were microchipped during the clinic held April 15.  Seven of those pet owners came from other counties.
Youngsteadt said many senior citizens brought their pets to take advantage of a discounted fee seniors receive for the service.
"It was great to see so many seniors right off the bat this year.  The clinic is open to everyone but we really aim to get as many seniors and low-income residents that we can," Youngsteadt said.  "It was amazing to see so many dedicated pet owners and talk to them about how they look forward to the clinic as prices on vet care rise."
To see a schedule of future KCAC Drive-Thru Microchip and Rabies Vaccine Clinics, go to http://www.kanecountypets.com/.