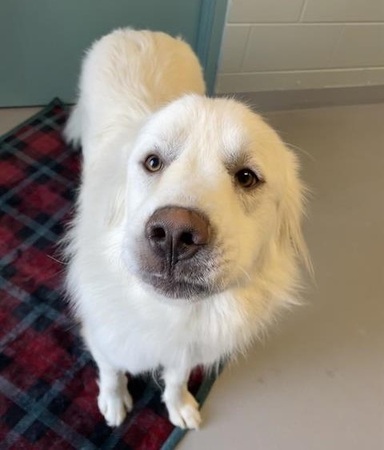 KCAC Pet of the Week: Meet Roman
Tecla Metzel of Kane County Animal Control 1/14/2023 6:00AM
It's hard not to fall in love with Roman, a 1-year-old white Great Pyrenees-mix found as a stray and brought to Kane County Animal Control.

On our first meeting, he hugged me. He stood up on his back legs, placed his front legs around my shoulders and literally hugged me. Here I was nose-to-nose almost with a Great Pyrenees who I had never met before and in no time we were the best of friends. He cried when I had to leave him and get back to work. If the truth be told, I had a tear in my eye as well.

Our wonderful kennel staff explained to me that Roman gets invested very quickly in his human companions. They become his best friends immediately. There are no human strangers in Roman's world.

He loves to hug everyone who comes to visit him. It's almost a rite of passage when you spend time with him—get hugs, get kisses, cuddle with a 70-lb extra-large snuggle bunny. And be prepared for him to cry a little as he asks to get petted again and again.

Because he's so large it would seem logical that nothing could scare Roman. However, logic doesn't really play a part in canine personalities because other dogs seem to scare him. In order to keep his anxiety at a minimum, it's important that he is adopted into a forever home with no other dogs and no cats.

Roman is looking forward to his new family getting him trained. Right now he knows his "sit" command, but he also knows there's so much more he needs to learn. And as he becomes more secure in his new surroundings, he will prove that he is the best canine companion for his new family.

Once you meet Roman we're pretty sure he will want to hug you, too.

How to Adopt
For more information regarding Kane County Animal Control's adoptable animals and for an adoption application, please go to www.kanecountypets.org.

All Kane County Animal Control adoptable cats and dogs are spayed/neutered, microchipped and up-to-date on all vaccines including rabies. They are tested for feline leukemia/FIV and heartworm.

The adoption fee for dogs is $200 and $100 for cats. Adoption of two dogs is $300 and it is $150 to adopt two cats. 

"In order to really enjoy a dog, one doesn't merely try to train him to be semi-human.  The point of it is to open oneself to the possibilty of becoming partly a dog."  Edward Hoagland, American author of nature and travel writing.