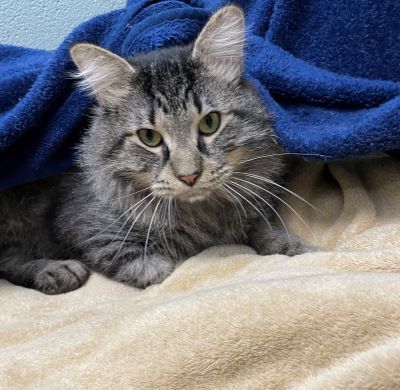 KCAC Adoptable Pet of the Week
Tecla Metzel of Kane County Animal Control 11/5/2023 6:00AM
​
"A cat doesn't care if you are smart or dumb, give him your heart and he will give you his." – Abraham Lincoln
Do you enjoy quiet moments watching your favorite streaming shows? Have you often wondered if those days and nights would be better with a feline friend sitting on your lap?

Then KCAC has the perfect companion for you. His name is Blue and he's a 1-year-old gray tiger Domestic Medium-Haired cat.

Quiet yet charming, Blue exudes a confident reserve that hides a sweet and gentle soul. He absolutely thrives on blatant affection, purring and offering himself up for all the scratches and chin rubs he can handle.

He also enjoys hiding under blankets in corners designated as his safe place.

Once an owned cat, Blue was more than likely abandoned. Some of that trauma has remained with him, so he needs a quiet loving home where he can feel safe as well as have an understanding and patient owner who will allow him to grow at his own pace.

This beautiful boy is waiting for you. Do you have enough love?

KCAC Update
Who said black cats are bad luck?

Certainly not Midnight, the male 3-year-old all black Domestic Shorthair who finally found his fur-ever home on the afternoon of Halloween!

He definitely put a spell on everyone at KCAC. All of us wanted to say goodbye to the sweetest cat this side of the moon. We are sure you will have an incredible 9 lives, Midnight!

Keep in touch and congratulations!

How to Adopt
For more information regarding Kane County Animal Control's adoptable animals and for an adoption application, please go to www.kanecountypets.org.

All Kane County Animal Control adoptable cats and dogs are spayed/neutered, microchipped and up-to-date on all vaccines including rabies. They are tested for feline leukemia/FIV and heartworm. ​

The adoption fee for dogs is $200 and $100 for cats. Adoption of two dogs is $300 and it is $150 to adopt two cats.