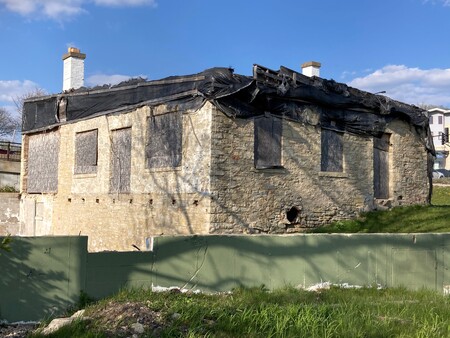 History of Geneva's 1843 Blacksmith Shop/ Hearing to Determine its Future
Kane County Connects Staff - Preservation Partners of the Fox Valley 1/9/2023 7:00AM
A public hearing on a demolition application of the locally landmarked Alexander Brothers Blacksmith Shop/Mill Race Inn at 4 E. State Street will be on Wednesday, January 18 at 7pm in Geneva
(This snapshot of the history of the building located at 4 E. State Street was written by Preservation Partners of the Fox Valley)

The Mill Race Inn was a popular restaurant on the eastern bank of the Fox River off State Street in Geneva from 1933 until 2011. What remains on the site is a 30 feet by 48 feet limestone building constructed by blacksmiths Julius and Edward Alexander and Lyman German in circa 1846. The building was built on a mill race, a channel from the Fox River diverted to power mills. They likely used this water power to drive equipment that could make shovel blades and plowshares according to Michael A. Lambert, Preservation Planner of Geneva. Regardless of its initial purpose, the building exemplifies the practical architecture of an emerging nineteenth century settlement and the changes in commerce ordinary Geneva residents experienced.
Common stone buildings, such as the Alexander brothers' blacksmith/foundry, were built all over the midwest because they were easily altered to manufacture or sell almost anything people needed. Once ubiquitous in the nineteenth century, these common structures are nearly extinct in the twenty-first. This rarity makes its architecture significant. Everyday citizens passed by or visited it, making it so woven into the fabric of the community as to be almost invisible. Yet, these everyday activities tell a lot about the way people lived. While not glamorous, the Alexander brothers' manufactory is rich in its commonness.
Located in a highly trafficked area and easily adaptable, the limestone building remained important to commerce as the village of Geneva grew into a city. Between 1846 and 1933, the Alexander brothers' blacksmith/foundry served as a:

• Paper mill

• Carriage and Wagon shop

• Cooperage factory
• Laundry business

• Paint shop
• Machinist shop

• Auto sales and repair
• Plumbing and heating business
Throughout its history, the building was like a chameleon, changing and evolving alongside the community. Everyday lives of the residents of Geneva are embodied in the unassuming Alexander brothers' blacksmith/foundry and their stories deserve to be told.
This mundane, but now rare, building not only reveals the history of the formation of the city but also its evolution. Because the building was a significant part of an early settlement structure, its vernacular architecture is nearly extinct, and its role in the evolution of commerce in Geneva, the Alexander brothers' blacksmith/foundry is a consequential building we believe should be preserved.
Preservation Partners of the Fox Valley is a non-profit organization operating five historic properties in the Fox Valley that offers heritage education and promotes the appreciation and preservation of the Fox Valley's rich architectural and historic resources. Learn more at
www.ppfv.org.