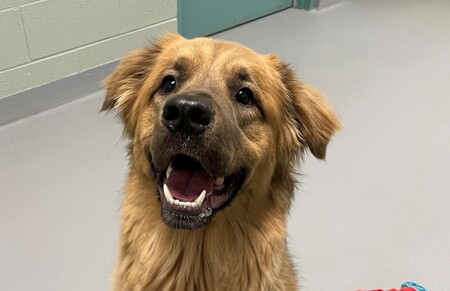 Kane County's Adoptable Pet of the Week
Kane County Connects Staff and Tecla Metzel of Kane County Animal Control. 3/16/2023 9:00AM
Huggable Reggie is in the house! And he's looking for his forever family!
It's hard to believe this 1-year-old beautiful Golden Retriever was never claimed after he arrived at KCAC. He's just too handsome of a fellow and has the friendliest personality to have been a stray, but, unfortunately, that's just what happened.
Maybe he was too energetic because he definitely needs active people in his life to run, jump and play fetch with him. Although he already seems to know basic commands, he will need a family willing to continue his education and training so Reggie can grow into a good canine citizen.

In return for feeling loved, safe and needed, this 1-year-old golden will bring his energy, slobbering kisses and all of his loyalty and love to his new family. As of this writing, Reggie is looking for a home where he is the only pup. Other dogs scare him, but we're sure he will thrive in a family where he feels unconditional love.
He actually has so much love to give that a family won't miss having another dog around. Reggie is definitely a dog that is good for the soul as well as every member of the family. Come visit with Reggie. He's just a tail wag away from becoming a member of your family!
How to Adopt For more information regarding Kane County Animal Control's adoptable animals and for an adoption application, please go to www.kanecountypets.org. All Kane County
Animal Control adoptable cats and dogs are spayed/neutered, microchipped, up-to-date on all vaccines including rabies. They are tested for feline leukemia/FIV and heartworm.
The adoption fee for dogs is $200 and $100 for cats. Adoption of two dogs is $300 and it is $150 to adopt two cats. KCAC's
Adorable, Adoptable Pet of the Week is written by Tecla Metzel of Kane County Animal Control. 
"Petting, scratching and cuddling a dog could be as soothing to the mind and heart as deep meditation and almost as good for the soul as prayer." – Dean Koontz, American author