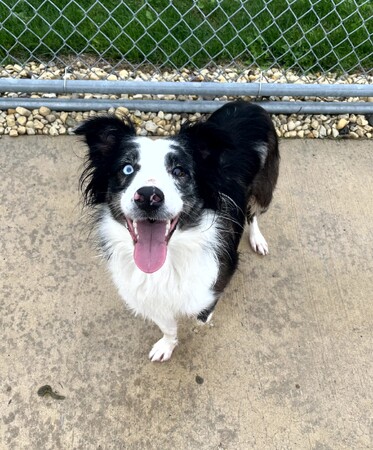 Kane County Animal Control Pet of the Week - Triggers
KCAC's Adorable, Adoptable Pet of the Week is written by Tecla Metzel of Kane County Animal Control. 11/19/2023 5:00AM
​
"What a beautiful world it would be if people had hearts like dogs." – Animal Defence League sayings
Calling all experienced dog owners looking for a one-and-only canine companion!

Triggers, a 1-year-old, spayed black and white Australian Shepherd mix, is looking for a family that will understand how excited she is just to be alive. In fact, from the moment she realizes there are humans willing to play with her, she becomes a non-stop energizer bunny.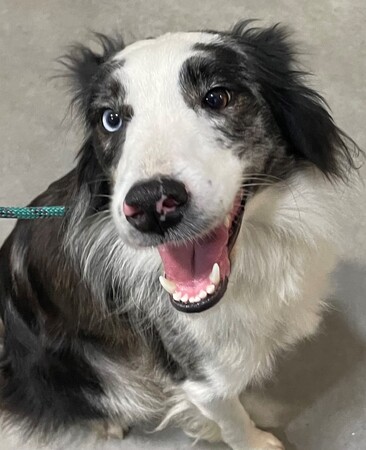 Watch her little rear end wiggle in delight as she engages in a game of keep-away with a squeaky toy. If you get the toy, she'll make all attempts to snatch it from you, not grabbing hard, just getting more and more excited with each moment of the game. As she begins to calm down and listen to her human playmates, the toy is easily given back to her.

With a preference for the spotlight, Triggers will thrive under the guidance of someone with a willingness to train her, especially in the basics. Keeping her entertained is going to be more difficult, yet a fun undertaking.

Since Triggers is extremely intelligent as well as energetic, she might fit easily into agility or other creative canine exercises that will use her energy level to its full potential.

Whether it's going off-road or exploring local forest preserves, Triggers is ready to be by your side on all types of adventures!

KCAC Update
Congratulations to Ser Pounce for finally finding his forever mom!
After having a rather long one-sided conversation with her, it only took a couple of head butts and a deep stare into her eyes before she was permanently hooked.

Ser Pounce in now living his best life in his fur-ever home after getting passed by for so very long. His new mom has kept in touch with us and just brags about how wonderful he is.

We are so very proud of you, Ser Pounce!

How to Adopt
For more information regarding Kane County Animal Control's adoptable animals and for an adoption application, please go to www.kanecountypets.org.
All Kane County Animal Control adoptable cats and dogs are spayed/neutered, microchipped, up-to-date on all vaccines including rabies. They are tested for feline leukemia/FIV and heartworm.

​The adoption fee for dogs is $200 and $100 for cats. Adoption of two dogs is $300 and it is $150 to adopt two cats.