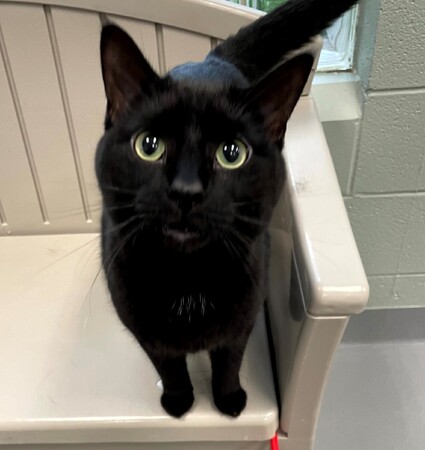 Kane County Animal Control Pet of the Week
KCAC's Adorable, Adoptable Pet of the Week is written by Tecla Metzel of Kane County Animal Control. 8/6/2023 4:00PM
​
"Dogs own space and cats own time." – Nicola Griffith, author of Hild
Look up, not in the stars or among the planets, but on the shelf above your head!

There's Captain Picard, a male, black 1-year-old Domestic Shorthair who was owner-surrendered. The faint strands of white on his chest make it appear as though he splashed himself with white paint, but it also pinpoints a good place to give him scratches and pets.
The Captain likes to follow his people around until he gets noticed, picked up and cuddled. He's all about getting his pet-o-meter satisfied and beaming himself up into your arms.

Captain Picard is never at a loss for words. An extremely versatile conversationalist he definitely keeps the shelter staff apprised of his daily activities and will go out of his way to explain every hour of his day. No matter what universe he visits or high shelf he decides to rest upon, his constant chatter will keep you entertained as long as he gets his cuddle quota.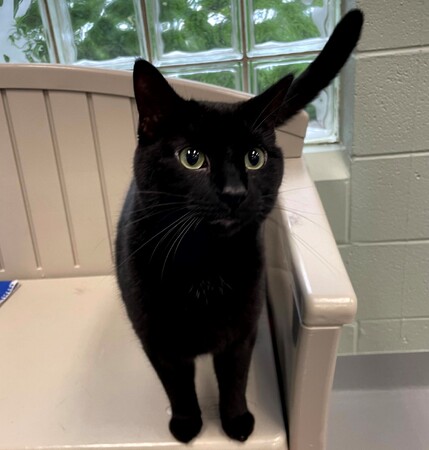 Whether it's settling in for a night of streaming or just reading a good book in your favorite easy chair, Captain Picard will make sure you are never lonely. He might call it the rule of the house but we all know it's "Captain Picard's rule of the house."

Captain will thrive in a home with no other cats or dogs.
He will make the perfect addition to your home as the two of you readily explore other terrains among the galaxies together.

How to Adopt
For more information regarding Kane County Animal Control's adoptable animals and for an adoption application, please go to www.kanecountypets.org.
All Kane County Animal Control adoptable cats and dogs are spayed/neutered, microchipped, up-to-date on all vaccines including rabies. They are tested for feline leukemia/FIV and heartworm.

The adoption fee for dogs is $200 and $100 for cats. Adoption of two dogs is $300 and it is $150 to adopt two cats. 

KCAC's Adorable, Adoptable Pet of the Week is written by Tecla Metzel of Kane County Animal Control.
​