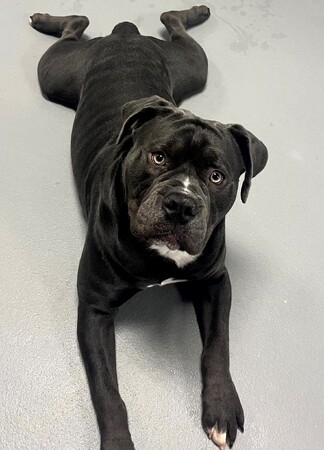 KCAC Adoptable Pet of the Week
KCAC's Adorable, Adoptable Pet of the Week is written by Tecla Metzel of Kane County Animal Control 1/30/2023 11:00AM
It might take a while for Obi, our neutered male, gray and white Neapolitan Mastiff-mix, to get to know people when they come to visit him.
It appears that Obi's owner passed away while he was living in his home which is probably why he hangs back, taking time to assess any and all situations. Rushing in or getting all huggy, kissy with 2-legged people could mean either a nice petting session or maybe something not so nice. Until he knows their full intentions, he isn't going to trust anyone.
Sad as that is, it just shows how smart Obi is.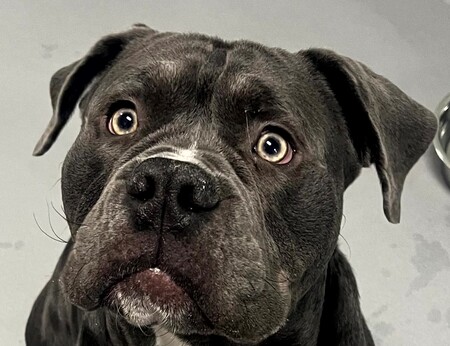 Once he gets over the trust hump, however, Obi becomes a big goofball. He loves to play with toys, especially the squeaky ones. So, when you bring Obi home it's up to you whether you buy him the ones that squeak or not. (You've been warned!)

Other dogs don't seem to upset him that much. Of course, he's a little tentative with them at first, too, but then he is up for playing with them in no time.
Obi will need an owner who understands his shy demeanor and is willing to gently train him through his fears. Once he learns the basic commands, sit, stay, down, come, heel, leave it and off, he should begin to feel more confident because he will know what is expected of him.
If you believe that you're the one who can patiently change Obi's world for the best as well as help him through his fears, then Obi has been waiting for you!

How to Adopt:   For more information regarding Kane County Animal Control's adoptable animals and for an adoption application, please go to
www.kanecountypets.org​
.
All Kane County Animal Control adoptable cats and dogs are spayed/neutered, microchipped and up-to-date on all vaccines including rabies. They are tested for feline leukemia/FIV and heartworm. The adoption fee for dogs is $200 and $100 for cats.

Adoption of two dogs is $300 and it is $150 to adopt two cats.

KCAC's Adorable, Adoptable Pet of the Week is written by Tecla Metzel of Kane County Animal Control
"A well trained dog will make no attempt to share your lunch. He will just make you feel so guilty that you cannot enjoy it." – Helen Thomson, Australian actress