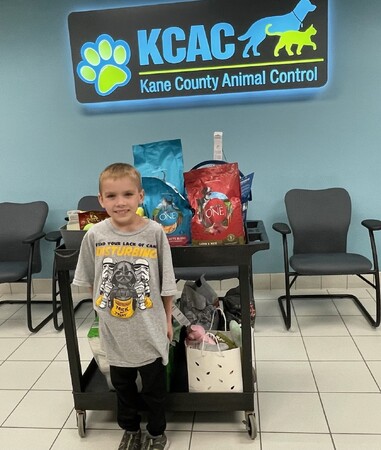 A Young Boy's Heartwarming Generosity to KCAC Shelter Pets on his 9th Birthday
by the amazing Tecla Metzel of Kane County Animal Control. 11/13/2023 6:00AM
​
A family came into the lobby of Kane County Animal Control (KCAC) carrying a large package of paper towels, dog food, office supplies and other items from KCAC's online wish list.

The youngest of the family members proudly exclaimed his name was James and these donations were all from his birthday party. His mom expounded that instead of presents for his 9th birthday this year, he had asked his friends to donate items to help the animals at at the KCAC shelter.
And then he beamed the biggest smile that literally lit up the lobby.
We're sure James is going to make quite a dent in the world because he's already changed a lot of animals' lives by this one gesture.
All of us at KCAC are extremely thankful and grateful that you chose our shelter on which to bestow your birthday presents, James. Not only do we think you and your family are awesome for putting shelter dogs and cats above your own wants, we believe you are setting an incredible example for others to follow in your footsteps.
Thank you from all of us at Kane County Animal Control!