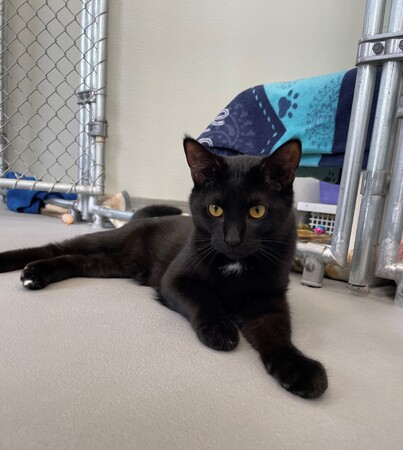 Kane County Animal Control Adoptable Pet of the Week
Kane County Connects Staff / Tecla Metzel of Kane County Animal Control 4/2/2023 1:00PM
It's not easy being a small black kitten in this ginormous world that doesn't really appreciate small black kittens, or small black cats in general, truth be told. Especially when all your littermates have already been adopted and you are the only one left to face the great unknown—alone.

It also doesn't help that your name is Dopey, the youngest of Severn Dwarfs. People already have a preconceived notion about your personality, even if it's not true.

How are you supposed to live up to that type of hype?

First of all, Dopey, a 6-month-old black and white Domestic Shorthair is really sweet and gentle with everyone. In fact, he absolutely loves other cats because he grew up with his littermates.
Now that he's on his own, he might be a little shy at first, a little reticent, a little stand-offish, but fairly soon, if you pet him, he'll rub himself against you asking for more. He may not necessarily want to sit in your lap, but he is all about snuggling.
Dopey isn't a great talker, only occasionally allowing a "meow" to escape his mouth, but that might be because he isn't on terra firma in a consistent environment. He's still young enough that once he feels safe in his new home and begins to trust his new family, he might learn to pop out a few feline words of wisdom.
Dopey is definitely looking for his Snow White to come and rescue him from a life in the shelter. You can make his story have a happy ending by bringing Dopey back to your castle. He'll definitely purr his way into your heart.
How to Adopt
For more information regarding Kane County Animal Control's adoptable animals and for an adoption application, please go to
www.kanecountypets.org.
All Kane County Animal Control adoptable cats and dogs are spayed/neutered, microchipped, up-to-date on all vaccines including rabies. They are tested for feline leukemia/FIV and heartworm.

The adoption fee for dogs is $200 and $100 for cats. Adoption of two dogs is $300 and it is $150 to adopt two cats.
KCAC's Adorable, Adoptable Pet of the Week is written by Tecla Metzel of Kane County Animal Control.
"A cat can purr its way out of anything." – Donna McCrohan, Nonfiction author, television history