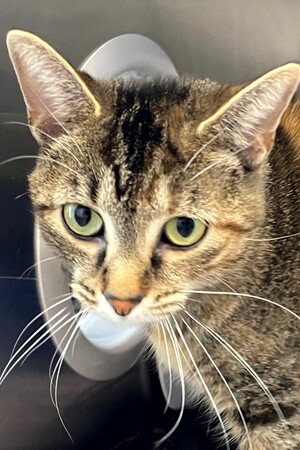 Kane County Animal Control Pet of the Week
KCAC's Adorable, Adoptable Pet of the Week is written by Tecla Metzel of Kane County Animal Control. 9/10/2023 3:00PM
​
"Of all the things God created, from sunrises and rainbows, to black holes and humor, cats are the most fascinating to me." – Jarod Kintz, Self-published author
It seems as though just about everyone knows how cute, furry and funny kittens are.

You can't help but allow an "awww!" to escape your lips as you watch those online videos that so aptly show the antics of these little balls of energy.  Watch them frolic and try to mimic their older counterparts, grab on to fingers and hands, roll down stairs, sleep on their owner's shoulders or hide under a laundry basket.
For every cute adorable kitten that's out there, however, there is an older cat in a shelter attempting to get a human's attention in order to convince them to take them home.

Take Molly, for example, a spayed, calico Domestic Shorthair that's about 2-years-old. Owner surrendered due to circumstances beyond her control, Molly is on the road to becoming a talk show host. She loves to talk and talk and talk. She figures if she doesn't speak up, no one will know she's waiting for attention!
Once you notice her, she will literally bend your ear about all the happenings in her world. She enjoys playing with any toy that has a string attached, chasing it all over the place. It's her moment in the spotlight and she's not going to waste a minute of it.

As sweet and loving as Molly can be, she doesn't appreciate other cats or dogs in her realm, so having her as the only cat will just mean that all her cuddles and kisses will only be for you.

If you're looking for a cat to cuddle or a feline to play fetch or a chatty, conversationalist, then Molly is the perfect pet for you!

How to Adopt
For more information regarding Kane County Animal Control's adoptable animals and for an adoption application, please go to www.kanecountypets.org.
All Kane County Animal Control adoptable cats and dogs are spayed/neutered, microchipped, up-to-date on all vaccines including rabies. They are tested for feline leukemia/FIV and heartworm.

The adoption fee for dogs is $200 and $100 for cats. Adoption of two dogs is $300 and it is $150 to adopt two cats.