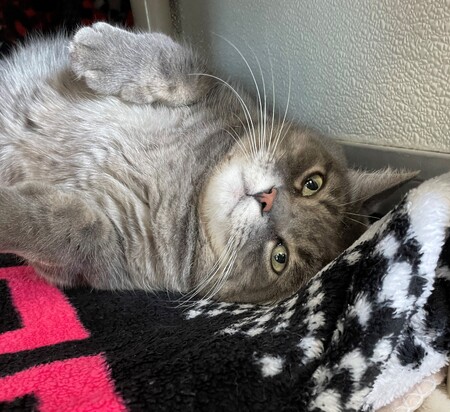 Kane County Animal Control Pet of the Week
KCAC's Adorable, Adoptable Pet of the Week is written by Tecla Metzel of Kane County Animal Control. 7/16/2023 7:00AM
​
Cats are funny creatures, really.
First, there are those that want to spend all their time with their owners, helping them in every facet of their daily life by sitting on their lap, assisting at the computer as they languish on a keyboard or chase the cursor across the screen.

Other cats may want very little to do with their owners other than feeding time or when they feel the need for a petting session or two during the day. They spend their days watching birds out the window, sleeping, and stalking the dog as they deign to be in the same room with family members. Getting waited on and living their best life is all they care about.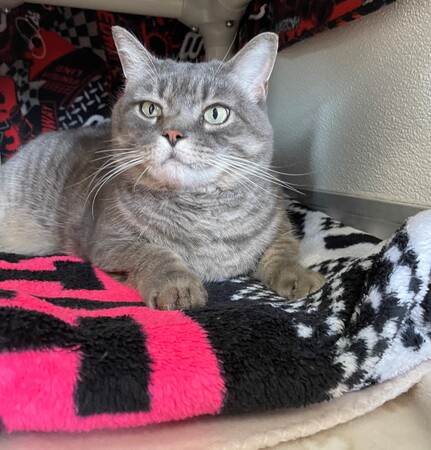 Lily, KCAC's 8-year-old spayed gray Domestic Shorthair embodies both of these personalities. She knows she's beautiful and she's willing to flaunt it. Her gorgeous green eyes flash with the mystery of the feline spirit through and through.
Some days she wants as many scratches behind the ear as she can get and then, just as suddenly within the next minute, she lets people know she is done with all that silliness until the next moment when she asks for more pets.
Lily was surrendered through no fault of her own and is ready to spend the rest of her life living quietly with very little stress. Her ideal home will not encompass children, but will allow for adults who have the patience to put up with Lily's "it's all about me" personality.
How to Adopt
For more information regarding Kane County Animal Control's adoptable animals and for an adoption application, please go to www.kanecountypets.org.
All Kane County Animal Control adoptable cats and dogs are spayed/neutered, microchipped, up-to-date on all vaccines including rabies. They are tested for feline leukemia/FIV and heartworm.

​The adoption fee for dogs is $200 and $100 for cats. Adoption of two dogs is $300 and it is $150 to adopt two cats.     
KCAC's Adorable, Adoptable Pet of the Week is written by Tecla Metzel of Kane County Animal Control.

"Of all God's creatures, there is only one that cannot be made slave of the leash. That one is the cat." – Mark Twain, American author & humorist