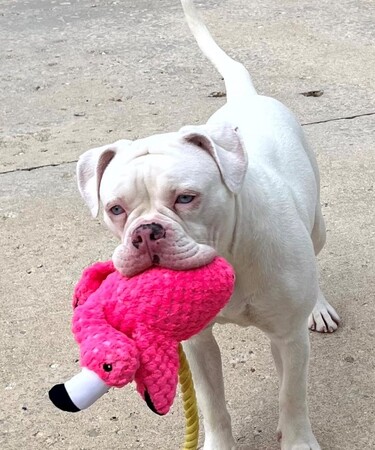 Kane County Animal Control Pet of the Week
KCAC's Adorable, Adoptable Pet of the Week is written by Tecla Metzel of Kane County Animal Control. 8/13/2023 2:00PM
​
"A dog is not a thing. A thing is replaceable. A dog is not. A thing is disposable. A dog is not. A thing doesn't have a heart. A dog's heart is bigger than any 'thing' you can ever own." – Elizabeth Parker, author of Finally Home
The word 'special' can have a lot of different meanings such as 'distinct', 'different' and 'exceptional'.

All of those adjectives definitely describe Jerri, a spayed female, white Pit Bull terrier and Boxer-mix. You might even want to cram all of those words into one big sentence when you try to describe this 1-year-old beauty.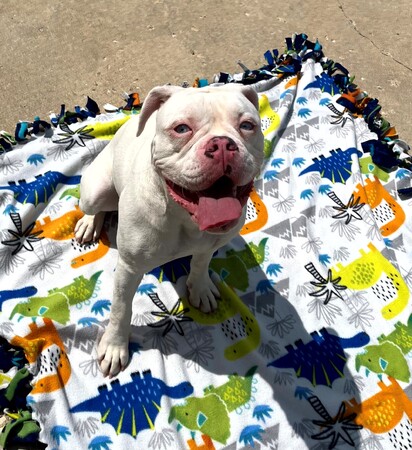 Jerri came to KCAC as a stray and is distinctly different and exceptional because she is almost, if not completely, deaf. That makes her a very special young lady who lives her life as though she isn't.        

From her big smile to her playful attitude, Jerri's main goal seems to be to enjoy life and play with her rope toy as much as possible.

She is extremely high energy and has a hard time calming down, so she will need an experienced dog owner who is not only willing to take the time to train her, but also able to learn how to work within the parameters of her deafness.

Playing all day long is how Jerri rolls. It would be so cool to have a companion to share in all the running, tugging and jumping she enjoys so much.

She enjoys the company of everyone, big, small, furry, and even those two-legged ones. She more than likely would thrive in a home where there is another dog that could keep up with her active personality.

Are you ready for the challenge? Jerri is waiting for you!

Kane County Pupdates
A big congratulations to Captain Picard, the talky 1-year-old black male cat that was owner surrendered. His new family enjoyed the conversation he had with them when they came to check him out. He must have been very convincing because they adopted him on the spot.
Good job, Captain Picard. Live long and prosper!

How to Adopt
For more information regarding Kane County Animal Control's adoptable animals and for an adoption application, please go to www.kanecountypets.org.
All Kane County Animal Control adoptable cats and dogs are spayed/neutered, microchipped, up-to-date on all vaccines including rabies. They are tested for feline leukemia/FIV and heartworm.

​The adoption fee for dogs is $200 and $100 for cats. Adoption of two dogs is $300 and it is $150 to adopt two cats.