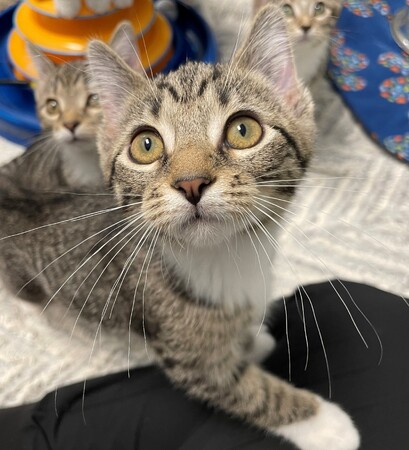 Kane County Animal Control Pet of the Week / Jelly
KCAC's Adorable, Adoptable Pet of the Week is written by Tecla Metzel of Kane County Animal Control. 8/31/2023 9:00AM
​
"I regard cats as one of the great joys in the world. I see them as a gift of highest order." – Trisha McCagh, Writer, animal communicator
There are 6 kittens, all from the same litter available for adoption at Kane County Animal Control.

Similar in attitude and size, these kittens have boundless energy. They are in constant motion, crawling over each other and running down the hallway to explore all of the nooks and crannies of the office.

Once in a while, a staff member will pick up one of the kittens and attempt to cuddle it for a moment. It doesn't take long, however, for the 2-month-old feline to get bored and squirm to get down, which the staff member does ever so gently.

Their antics are far more fun to watch than any streaming series. Besides running and jumping, these kittens love bounding on top of their brothers and sisters into a monkey pile.

Jelly, a spayed female, brown, gray and black striped Domestic Shorthair, is usually on top of the pile. She's only 2-months-old and her big eyes look at you with the wonder of it all.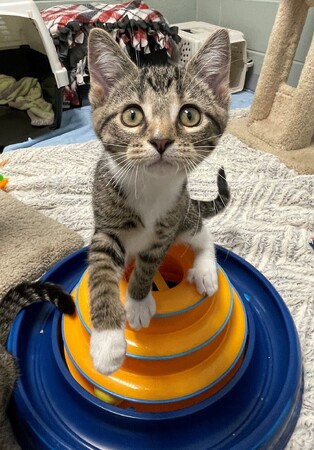 In relation to her world, everything must seem so large and fore bidding, but she doesn't actually give it much thought as she crawls up your pant leg toward your shoulder for a few cuddles. She loves to sit in your lap for quite a while and snuggle as she watches her brothers and sisters take over the halls of KCAC.

Then it's off to the next challenge which is probably chasing the ball around in a circular cat toy or crouching behind the litter box to spring out at one of her siblings.

Jelly is a joy to watch and will certainly fit into any forever home with or without other cats.

KCAC Pupdate
Congratulations to Granger, the large white Great Pyrenees!
His fur-ever family found him on the KCAC website, fell in love with him and took him home the same day. His life has definitely changed for the better. Rather than a shelter cage, his world will now be filled with a lot of love—and hair.

How to Adopt
For more information regarding Kane County Animal Control's adoptable animals and for an adoption application, please go to www.kanecountypets.org.
All Kane County Animal Control adoptable cats and dogs are spayed/neutered, microchipped, up-to-date on all vaccines including rabies. They are tested for feline leukemia/FIV and heartworm.

The adoption fee for dogs is $200 and $100 for cats. Adoption of two dogs is $300 and it is $150 to adopt two cats.  
KCAC's Adorable, Adoptable Pet of the Week is written by Tecla Metzel of Kane County Animal Control.

​