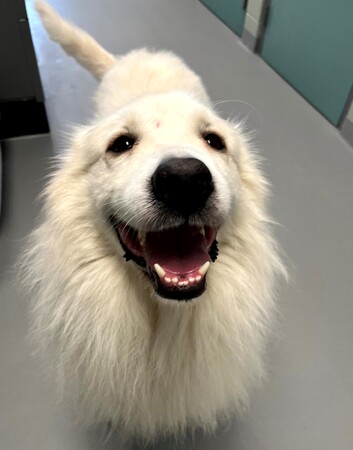 Kane County Animal Control Pet of the Week / Granger
KCAC's Adorable, Adoptable Pet of the Week is written by Tecla Metzel of Kane County Animal Control. 8/27/2023 3:00PM
​
You know, a dog can snap you out of any kind of bad mood that you're in faster than you can think of." – Jill Abramson, American author, journalist & academic
He's big, he's white and he's furry.

He's definitely the only Great Pyrenees in the room, so it's hard not to miss him, especially when he turns on the doggo charm by giving everyone his million dollar smile.

His name is Granger and he's 67 pounds of love!
This 1-year-old big boy was found as a stray wandering the streets of Saint Charles looking for a home to call his own. He definitely needed a good bath when he arrived at KCAC because he was very matted and looked as though he brought half of the outdoors with him.

​Granger absolutely loves hanging out with people. His most favorite thing is when he gets a good brushing because there's so much hair to brush! And it fits so perfectly into his plan of spending more time with his person. Brushing also feels so good!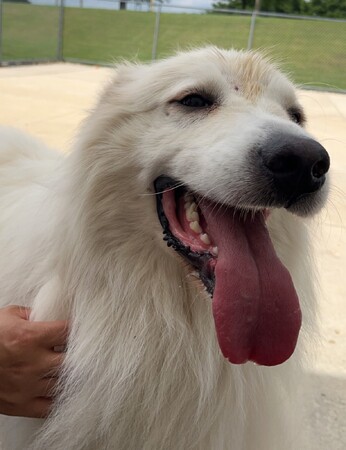 Other dogs don't seem to bother him because he's just not that interested in them. He's much more enthralled by people and figuring out ways to become their next best friend.
If you have a lot of love to give to a very large dog with a smile that will light up a room, then come give Granger a gander.
He will melt your heart, give you hugs and brighten up all of your days!
How to Adopt
For more information regarding Kane County Animal Control's adoptable animals and for an adoption application, please go to www.kanecountypets.org.
All Kane County Animal Control adoptable cats and dogs are spayed/neutered, microchipped, up-to-date on all vaccines including rabies. They are tested for feline leukemia/FIV and heartworm.
The adoption fee for dogs is $200 and $100 for cats. Adoption of two dogs is $300 and it is $150 to adopt two cats.