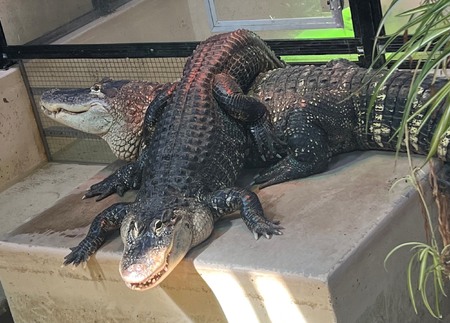 New Home for Popular Aurora Zoo Alligators
Kane County Connects Staff 5/8/2023 1:00PM
​
See you later, alligators!  Two longtime residents of Aurora's Phillips Park Zoo have outgrown their indoor habitat and found a new, spacious outdoor home.
The popular American alligators Irwin and mate Alice were transported from Aurora to Athens, Michigan, where they will now reside at the Critchlow Alligator Sanctuary, an educational outdoor reptile facility that is open to the public.
Both were initially confiscated as illegally kept pets. 24-year-old Alice arrived at the Phillips Park Zoo in 2001 as a two-year-old gator. Five years later, 19-year-old Irwin joined her in 2006 when he was two. Both were less than two feet when they arrived and weighed less than 100 lbs.
Over the decades, the inseparable duo grew in love and size.  The male Irwin is nearly 600 lbs. at 10 feet long, and the female Alice is 300 lbs. at 7 feet in length – and both are still growing.
While the decision was difficult to part with integral members of the animal family at Phillips Park Zoo, the zookeepers knew the best quality of life for the growing gators would be in a more spacious, natural environment.
With assistance from a trained large animal transfer specialist and certified zookeeper, the toothy twosome was safely and successfully removed from their drained 3,000 galloon enclosure complete with sunbathing pads. They were then transported personally by zookeepers at Phillips Park to the Critchlow Alligator Sanctuary, where they will live the balance of their long lives in the company of other alligators in the premier outdoor sanctuary.
"Irwin and Alice have been a crowd favorite for thousands of children for decades as they visited the reptile house at Phillips Park Zoo," said a Phillips Park Zoo official. "While we will miss them as part of our zoo family, we are glad they will be able to room freely in a spacious outdoor sanctuary for the next few decades or longer. We may even drive out to see them from time to time."
The exhibit will now be used to house other smaller reptiles as the City plans for a major renovation of the century-old Phillips Park Zoo in the near future.​

Source/ Aurora Media Release