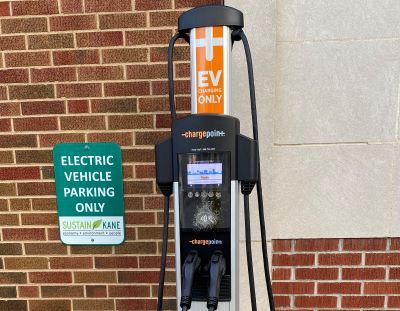 Kane County Among Inaugural Cohort to Join EV Readiness Program
Kane County Connects Staff 11/30/2022 3:00PM
​
Kane County is one of 16 communities- and the only County- to join the inaugural cohort of the Electric Vehicle (EV) Readiness Program, announced by ComEd and the Metropolitan Mayors Caucus.  The unique initiative launched earlier this year will help local governments prepare to meet the growing demand for electric vehicles and EV charging infrastructure. 
Funded in part with a $225,000 commitment from ComEd, the EV Readiness Program will help communities streamline policies and implement best practices for safe and effective regional transportation electrification.
EVs – which provide cost savings, environmental and health benefits for communities – continue to grow in popularity and are expected to account for 50 percent of new vehicle sales by 2030. This is thanks in large part to the increased availability of state and federal incentives, and to Illinois' landmark Climate and Equitable Jobs Act (CEJA) passed in 2021, which calls for 1 million EVs on the road by 2030. 

Program participants will focus on policy development related to EV infrastructure, permitting, and safety, and support community engagement. Additionally, by building local capacity for EV integration, this program will help remove barriers that smaller communities may face in vying for state and federal funding to expand EV charging infrastructure – a key component to ensuring equitable access to EVs for residents across the region.

"The EV Readiness Program is the first of its kind, and working together across the region is not new to us," said Kevin Burns, Caucus Environment Committee and Energy Subcommittee Chairman. "Members of the Metropolitan Mayors Caucus have successfully collaborated to create the first Climate Action for the Chicago Region and to advance solar adoption in a similar cohort-based manner. ComEd is just the right partner to leverage our strengths as local government to achieve EV Readiness."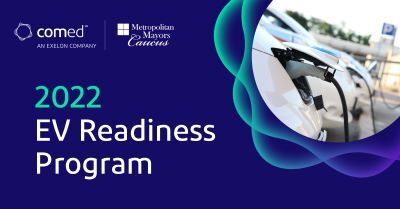 The first cohort selected by the Caucus includes a diverse mix of 16 communities across the region:
Aurora
Carol Stream
Chicago
Darien
Deer Park
Geneva
Glencoe
Hampshire
Hanover Park
Kane County
Maywood
Oak Park
Polo
Richton Park
Skokie
University Park
Through the program, EV Readiness cohort members will follow a pathway toward EV Ready Bronze, Silver, or Gold designation, achieving status by taking action in several categories related to EV adoption and infrastructure.
Members of the cohort begin work in early December and are expected to achieve "EV Ready Community" designation status within six to nine months. The Caucus expects a second cohort of municipalities and counties will start in 2023.

SOURCE:  ComEd media release.