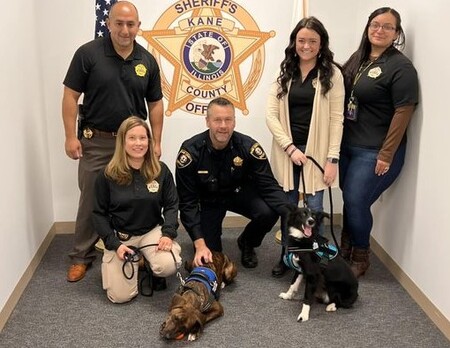 Sadie and Loki: Newest Members of the KCSO Special Victims Support Team
Kane County Connects Staff 10/17/2022 1:00PM
The Kane County Sheriff's Office (KCSO) officially has two new staff members; Sadie and Loki. The K-9's therapy dogs were sworn-in October 17, 2022 during a ceremony at the Sheriff's Office.

Sadie was trained through a 12-week 'Comfort Dog' program and has been paired with Detective Deanna Velazquez at the
Kane County Child Advocacy Center
. The two will offer therapy support to individuals entering the facility.
Loki was a dog given up by a family in Florida for unknown reasons and was chosen by a local shelter as a good candidate for assisting social workers. He will be working alongside Kane County Social Workers Brenna Russell and Desiree Avitia.
Kane County's Social Worker Support
team provides trauma intervention and advocacy, along with crisis intervention, grief support, and emergency and non-emergency referrals. Both dogs are now part of the Special Victims Team, assisting people who are coping with a traumatic incident.