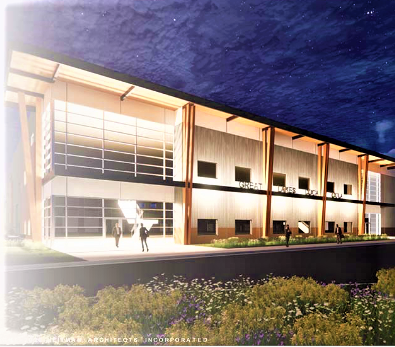 A Catalyst for Economic Development in Northern Kane County
Kane County Connects Staff 8/22/2022 1:00PM
Construction starts this month on a history making $90 million-dollar private, commercial development in West Dundee.
According to a release from the Village, Transwestern Development Company out of Houston has purchased 40 acres of property from the Haeger Land Corporation (HLC). HLC is a West Dundee family-owned business and a division of Haeger Industries. It owns the 160-acre Canterfield Corporate Campus along Route 31 north of Interstate 90 where the new development will be constructed.

"This will be the single largest private investment project of its kind in the history of West Dundee," said Village President Chris Nelson.
Transwestern plans to build two warehouses totaling 500,000 square feet. One of the structures will become the new home of Reyes Coca Cola Bottling, currently located in St. Charles. The new facility will include a warehouse distribution center and sales office.

According to the West Dundee community newsletter (http://www.wdundee.org), the project is expected to generate nearly $875,000 in annual property tax revenue, create more than 200 jobs, with 75 temporary jobs in construction and 125 or more permanent opportunities.
Village officials have applauded Reyes Coca-Cola Bottling for locating to the West Dundee campus, calling it a well-respected company. It is expected that this will be one of Reyes Coca-Cola Bottling's larger distribution facilities within the Chicago metro region.
"The Village is certainly pleased to announce this milestone development, recognize the significant investment being made, and celebrate the positive financial impact it will provide the community directly for many years to come," said Timothy Scott, West Dundee Economic Development Director.
The project is expected to be completed in early 2024.
SOURCE:  Village of West Dundee media release.