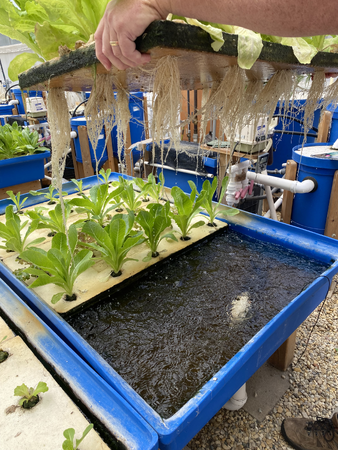 Local Foundation Creates Aquaponics How-To for Students
Kane County Connects Staff 9/5/2023 11:00AM
​
​Tucked away in over 1,000 acres of forest and prairie along the Fox River in Dundee Township, the Max McGraw Wildlife Foundation is more than just a home for recreational hunting and fishing in Kane County.  It's also a laboratory and training ground for wildlife scientists. The foundation specializes in biological and ecological research, including urban coyote populations, prairie waterfowl protection, and now aquaponics.
Aquaponics is most often described as a combination of aquaculture, the growing and farming of aquatic animals, and hydroponics, the growing of plants using water instead of soil.  In McGraw's Ken Wegner Family Center for Aquaponics Research, fish, plants, and bacteria all grow together and provide nutrients to each other.  It turns out that many of the nutrients needed to sustain plant growth in a hydroponic setting are the same or similar to those produced by fish through their waste.  This means that a system of fish and plants can be sustained and plants can grow for just the cost of electricity and fish feed, with no need for fertilizers or other treatments for the plants.  The research center can have multiple harvests year-round.  Right now, they are growing lettuce, strawberries and tomatoes.
Here's how it works. The fish themselves are raised in a large tank of clean water.  This tank is attached through a series of pipes and smaller tanks to a system of bacteria that filters the tank water.  Fish excrete ammonia as a waste product.  As anyone who owns a fish knows, fish tanks must be cleaned and filtered because the ammonia that fish produce is deadly to them, even in small amounts.  In an aquaponic system, bacteria convert, ammonia in chemical reactions, to create nitrite and then nitrate.  Nitrates are often found in fertilizers and are needed by plants for survival.  Once the ammonia is converted to nitrate, the plant roots absorb the nutrient rich water.  The plants filter the water for a final time before it is pumped back up to the fish tank, and the whole cycle starts again.
Gordy Gotsch, Director of Fisheries Research and Manger with the McGraw Foundation, is currently working to share this system with students.  He has created an online instructional video for teachers to learn how to install a small hydroponic system in a classroom as an educational tool.   "The system incorporates math, biology, chemistry and engineering," said Gotsch.  "It also teaches students about gardening, health, the environment and substantiality."  Go to aquaponics@mcgraw.org for more information on school units and possible classroom installations.
Aquaponics uses 90 percent less water than conventional farming, is productive year-round rather than only for a particular season, and eliminates the need for fertilizers, herbicides or pesticides.  Researchers hope it can provide a sustainable source of protein and vegetables in developing countries and that aquaponics can be a solution to groundwater scarcity and pollution from agriculture.
"Water is a big issue because of shortages in certain locations and so is a growing number of food deserts where access and opportunity to grow fresh produce are limited or non-existent."  "Aquaponics could, at some point, address all of those issues."  
The Max McGraw Wildlife Foundation was established in 1962 by Max McGraw who owned a farm in Dundee  in the 1930s, where he started  to conduct research and offer educational programs to advance and sustain conservation in the United States.