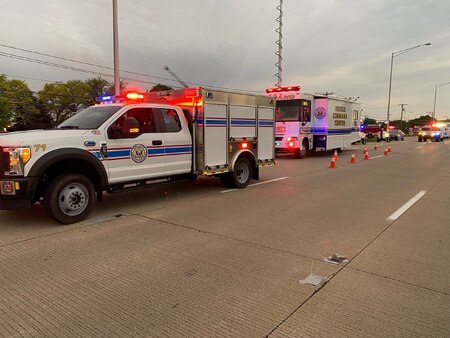 Kane County Emergency Management Volunteers Provide 10,000 Hours of Service
Kane County Connects Staff 4/17/2023 6:00AM
​
​The selfless service of volunteers is an integral part of any organization and Kane County's Office of Emergency Management (OEM) is no different.

Kane County OEM volunteers play a number of important roles during emergencies and disasters, including responding to call-outs, providing traffic control, participating in search and rescue efforts and provide other support to officers, fire personnel and first responders. April is National Volunteer Appreciation month. The Kane County Board recognized the important work of OEM through a proclamation this month, that noted in 2022, OEM volunteers provided 10,077 hours of service to the county and its citizens. This time, although difficult to place a dollar value on the work the volunteers do, is estimated to be valued at $301,806.00
The Kane County Office of Emergency Management is always interested in recruiting new volunteers who can fill these professional roles within the OEM organization. The roles require commitment, a willingness to expand on current skills and knowledge as well as learn new skills, and the ability to work effectively with other members of the organization.
To qualify you must meet the following requirements:
Be a minimum of 21 years of age.
Live inside of or within five miles of the Kane County border.
Be willing to learn and participate in trainings.
Be willing to work at pre-planned public events (details) in support of local community activities.
Be willing, when available, to respond to emergency calls for assistance when needed.
The OEM relies on each volunteer member to bring unique skills, capabilities, and talents when they join. For a volunteer to be an integral part of the organization, they must be willing to actively participate in pre-planned details, training, and emergency calls for assistance.
To apply to be an OEM volunteer and learn more about what is involved, visit http://www.kcoem.org/Pages/Volunteer-Program/Become-a-Member.aspx.