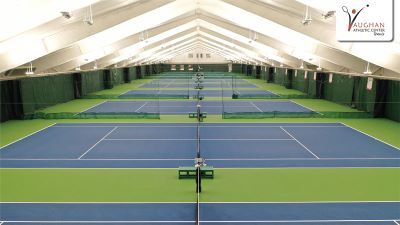 Vaughan Tennis Center in Aurora Named Outstanding Facility
Kane County Connects Staff 8/29/2022 7:00AM
​

The Vaughan Tennis Center in Aurora is one of only five nationwide in its category named ​a 2022 USTA (United States Tennis Association) ​Outstanding Facility.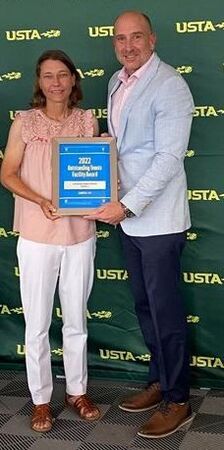 The USTA is the national governing body for the sport of tennis.  Tennis manager Brad Schmidt (pictured in photo) was presented the award at the recent Western & Southern Open in Cincinnati, Ohio. 

Owned and operated by the Fox Valley Park District, Vaughan Tennis Center was recognized in the category of "Public Courts: Small Tennis Centers (2-10 courts)." 

"I'm really proud of our staff and am especially excited for our members who can feel that sense of pride that theirs is a nationally recognized club," said Brad Schmidt, Vaughan's tennis manager. "Any recognition we get is as much theirs as it is ours." 
Facilities were judged on a wide range of criteria, including overall layout and adaptation to site; excellence of court surface and lights; accommodations for players, spectators and press/officials; and participation in USTA programs, among others. 

"Vaughan is my very favorite tennis center," said Leslie McClure, who captains Vaughan's top ladies team in the Northern Illinois Traveling Tennis League and plays in various USTA events.  "And it would be even if it wasn't my home club." 
Some of the Vaughan Tennis Center amenities include:  

Nine full-size (78') hardcourts 
Superior lighting that drastically minimizes or eliminates shadows 
Viewing deck and bleachers for spectators 
State-of-the art ball machines and hoppers 
​Full-service pro shop (with stringing service) and players' lounge 
Umpire chairs, scoreboards and court signage for tournaments and league play 
"Great facilities like Vaughan Tennis Center help us to grow the game at the grassroots level," said Craig Morris, chief executive of community tennis at the USTA.  

During 2021-22, more than 1,500 youth participated in Vaughan's indoor group lesson program, and 1,000 more adults took part in group lessons, travel teams or weekly drop-in lessons. 

"We're pretty involved with our local organizations, schools and colleges and our lesson programs are huge," Schmidt said. "We always try to be as creative and innovative as possible to increase programming and best adapt to the needs of our tennis community."  

Longtime member Donna Borse predates the Vaughan Center, going back to Dick Wyatt's original Aurora Tennis Club (acquired by the FVPD in 1999). Like Leslie McClure, Borse captains a Vaughan team in the NITTL, in which she's competed for the last 10 years at tennis centers across the region.  
"We play at every level and even if somebody's brand new to tennis, there's a place for them here," Borse said. "Staff and instructors keep trying to improve the whole tennis experience – and I'd say that's the biggest difference in what sets Vaughan apart. They're not satisfied with the status quo." 
"So many visitors and opposing players are amazed that it's a park district facilty. It stands out. We know it's a great place, but when other people come and say, 'Wow, this is fantastic!' It's eye-opening." 
Vaughan is home to the Illinois High School Tennis Coaches Association's annual conference and workshop, where 300 coaches from Illinois and Wisconsin assemble for educational sessions, an award ceremony and luncheon. Vaughan also plays host to Illinois High School Association postseason events; NCAA Division I matches (as an inclement weather site); an impressive lineup of Northern Illinois Tennis Association events; and, in partnership with the Fox Valley Special Recreation Association, special olympic and adaptive tennis programs. 

For more information about the Vaughan Tennis Center and its programs and services, visit https://www.foxvalleyparkdistrict.org/facilities/vaughan-athletic-center/vaughan-tennis-center/, call 630-907-8067 or stop in at 2121 W. Indian Trail, Aurora. 
SOURCE:  Fox Valley Park District media release. 
 ​