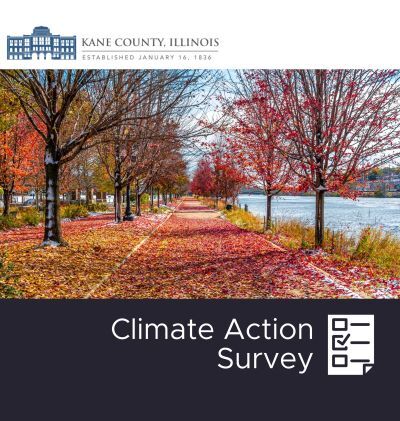 Kane County Seeks Community Input For Climate Action Plan
Kane County Connects Staff 3/6/2023 9:00AM
​

Kane County has launched an online survey to collect input from residents and businesses for its first Climate Action Plan. The information collected in the survey will help the County identify perceptions, needs, opportunities, priorities, and issues to help shape the County's sustainability priorities.
Kane County's Climate Action Plan will include a toolkit with resources to help municipalities implement sustainability initiatives in their communities.
We Want to Hear From You Kane County
Please share the survey with your family, friends and neighbors. The survey takes approximately 7 minutes to complete. Those that submit the survey before April 1, 2023 will have a chance to win a Kane County 'Sustain Kane' prize (stainless steel water bottle, snack bag and more.)
Participants are being asked to identify whether or not they live or work in Kane County, however, anyone is welcome to take the survey.

The survey is open until the end of May 2023 in order to receive ongoing participation from respondents.
Find the survey here: https://palebluedot.llc/kane-climate-action-survey