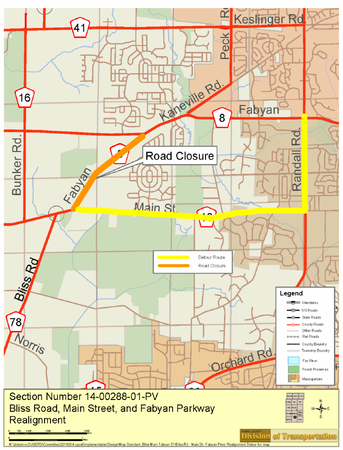 Fabyan Parkway Road Closure Starting June 19
KDOT Media Release 6/14/2023 6:00AM
Fabyan Parkway will be closed to through traffic from Hughes Road to Main Street Road beginning the week of June 19, 2023 until July 31, 2023, weather permitting. A posted detour will be in place utilizing Fabyan Parkway, Randall Road and Main Street Road. While closed to through traffic, this section of road will remain open to local traffic only.

This road closure will expedite construction, allow crews better access to the site while protecting the public by distancing them from the work and is part of the continued construction for the Bliss Road, Main Street Road and Fabyan Parkway Intersection Reconstruction Improvement project. 

The Bliss/Main/Fabyan project consists of a new road alignment, roundabout construction, roadway widening, resurfacing, lighting, drainage, and landscape restoration which will increase safety and traffic flow operations through the intersection. The anticipated completion date for the project is November 2023, weather permitting.
Visit our Traffic Advisories webpage for more information on road closures, detours, and active KDOT projects. ​​