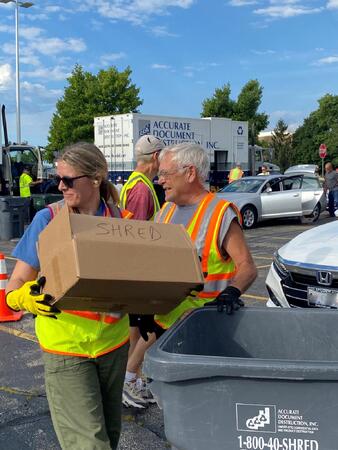 Kane County 2023 Recycling Events- Call for Volunteers
Clair Ryan, Kane County Recycling Coordinator 3/27/2023 10:00AM
​​​

The Kane County Recycling Program is currently looking for volunteers for three Saturday event dates: April 29, July 22 and September 30, all from approximately 7:15 a.m. - noon with optional lunch afterwards.
There are a variety of volunteer tasks that we do our best to tailor to volunteer skills and abilities, from greeting attendees and handing out information to lugging heavy boxes and paint cans.
Volunteers need to be 16 years or older (14-16 y/o with a parent also volunteering). The volume of traffic and nature of the tasks are a great fit for student volunteers. The Kane County Recycling Coordinator is happy to sign off on volunteer hours for various programs.
Sign up online here or by emailing your contact information and availability on the dates above to recycle@countyofkane.org or calling 630-208-3841.
Volunteering at Kane County's Recycling Events is a great way to help the environment and to help your neighbors.