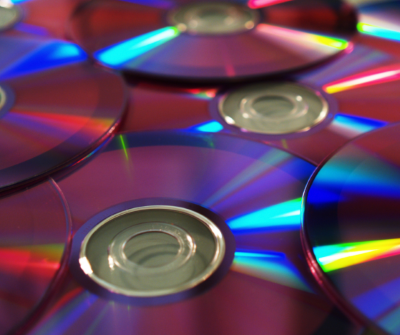 New Year, New Free Recycling Pilot: Obsolete Media
Clair Ryan, Kane County Recycling Coordinator 1/13/2023 3:00PM
​

Kane County is piloting a new recycling program that accepts obsolete media items including tapes (cassette, VHS, Beta Max) and discs (CDs, DVDs, Blu-ray, laserdisc, etc.)  These items can be dropped off at the Kane County Recycling Center (517 Fabyan Parkway) in Batavia, Monday – Friday from 8 a.m. – 4 p.m.  There is no charge for recycling these items, but if you have more than an armful, please pack them in a box you can leave behind.
While it is physically possible to recycle most obsolete media items, it usually requires specialized equipment relatively few recycling companies have. For example, the facilities that collect curbside recycling don't have this type of equipment, so residents should not put them in curbside recycling.  The only items associated with obsolete media that can go curbside are cardboard sleeves or paper booklet inserts.
For a long time, the only recycling solutions Kane County has been able to list on the Recycling A-Z List for media have been mail away solutions. This requires an individual to pay to ship their unwanted items to a recycling facility and pay a recycling fee. The fee can be substantial, depending on the amount of material and where it's being shipped, which may be too much of a hassle for some people when it is legal and acceptable to throw the items in the trash.
The greenest disposal route for old media is reuse, and some larger thrift stores will take old media for resale, but they have to be picky. For example, thrift stores can only legally resell commercially recorded items in their original packaging to comply with copyright laws. They also need to be mindful of what will actually sell, and damaged/scratched discs and any type of tape are not likely to be hot items today. Unfortunately, it is likely the older, imperfect, and home-recorded media items donated to thrift stores are trashed as unsellable, and some prefer not to take them at all anymore.
The County has been able to tap into a unique and local avenue for reuse. There are members of our greater community who rehabilitate old media and old media players, who buy, sell and trade these items, and who upcycle old items into art projects. Kane County has been able to tap into this network to offer a pilot to collect these items at the Fabyan Parkway recycling center.
A word of caution - we don't recommend that you bring any home-recorded media that you would be uncomfortable with anyone watching. Such items should either be mailed away for recycling (see "CDs, DVDs, etc." on the A-Z List) or thrown in the trash.