Kane County Recycles Rates the Reusable Bag - Series Part Three
Clair Ryan, Kane County Recycling Coordinator 6/28/2023 12:00PM
​
The first municipal single use checkout bag ordinance passed in Kane County will be going into effect in the City of Batavia on July 1, and large stores in the City with over 5,000 square feet of retail space, will start charging 10 cents for each single use carryout bag, both paper and plastic. It will not apply to bags used to hold bulk food, bakery items, produce, flowers and potted plants. It also does not apply to bags used by restaurants and cafes. The goal of single use bag fees is to encourage customers to shop with reusable bags.
In the run-up to the ordinance taking effect, the Kane County Recycling Program is writing up some reusable bag reviews, because not all bags are created equal! This is the third and final installment, focusing on woven synthetic bags. Previously, we looked at natural fiber bags, and non-woven synthetics. Bag are rated on a number of factors, including sustainability, durability, and how easy they are to wash and store. In all cases, 1 is a poor score, and 5 is the best. In each series, we include our ratings for single use paper and plastic bags as a basis for comparison. A complete matrix with scores for all bag types is now available on the Kane County Recycling Program website.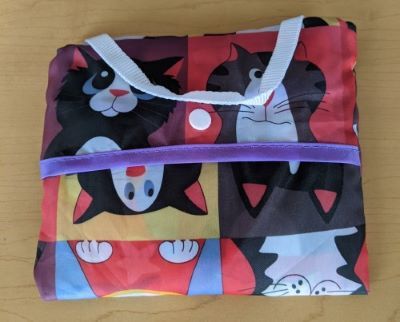 Our ratings and reviews for synthetic woven bags:
Nylon and polyester - Overall Score = 3.5-to-4/5
We're all fairly familiar with nylon and polyester from clothing. They are two different types of plastic that can be spun into thin yarns and tightly woven into fabric. Nylon tends to be more durable than polyester, but polyester can be made from post-consumer recycled material. If you come across a piece of clothing or a reusable bag with a label saying it's made from recycled water bottles, that's polyester. We like these bags a lot because they score pretty well on all of our metrics, though a few scores depend on the specific bag. They use fewer resources to produce than the waffle polypropylene bags while being more durable, more compact for storage, and more easily washable. Price can vary quite a bit, since some companies make branded semi-designer bags, but they can be found on the cheap as well. If you live in an apartment or are otherwise low on space, you may want to look for bags with snappers or toggle drawstrings that help the bags fold in on themselves for storage.  Similar to canvas bags, small rips or holes can be repaired fairly easily. At the end of life, a damaged nylon or polyester bag can be recycled with other scrap fabrics. Your Recycling Coordinator has some polyester fabric bags that are over 10 years old and going strong!
Coarse-weave Polypropylene - Overall Score = 3/5
Prior to reusable bags, woven polypropylene was most commonly used for transport and containment of heavy industrial and commercial materials. Think, for example, of the material used in sandbags. It's a good choice of material for large reusable bags which presumably might be used to carry a heavy load (a classic example being the jumbo IKEA tote). It might be a good idea to have a couple of these in your bag collection for carrying grocery items like watermelon, milk, bottled beverages, etc., but they are probably overkill for light groceries and most non-grocery items. If you do plan to use these for heavy items, make sure to check that the handle construction and attachment are quality. These bags are about on par with non-woven polypropylene for resource use, but are much tougher. Their weaknesses are in washing and storage - they're hand washable, but very bulky in the washing machine and they don't fold nicely for storage. There are also no known venues for recycling at end of life at present. The fabric is too coarse for recycling with cotton and other synthetic fabric.
Our Final Winners:
Nylon or polyester fabric: look for post-consumer recycled materials and for bags with snaps or toggles for compact storage
Cotton canvas: classic for a reason - just make sure to reuse many, many times and not to collect more than you can use​