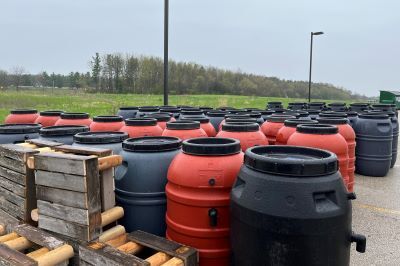 Kane County's Annual Rain Barrel and Compost Bin Program Returns For Limited Time
Kane County Connects Staff 4/12/2023 6:00AM
​

Kane County Recycles and Clean Water for Kane are partnering with The Conservation Foundation in 2023 to provide affordable compost bins and rain barrels for a limited-time spring sale! 
Upcycle composters are available for $75.50 in limited quantities and Upcycle rain barrels are available for $64.50.
From 7 - 8 p.m. Tuesday April 25, The Conservation Foundation and Kane County will be hosting a Zoom informational webinar to answer your questions about the program, products and pick up event. Please register for the webinar here. 
Attendees will learn how to create an environmentally-friendly yard with the benefits of using a rain barrel and compost bin. 

Order NOW! Bins and barrels are available for a limited time!
Please pre-order here before May 10, 2023. Select "Kane County" as event location.
Cost: Rain barrels are $64.50 each and Upcycle composters are $75.50 each. Other rain barrel and compost bin configurations and accessories are also available. Earth machine composters are unavailable this year and we apologize for the inconvenience. ​

Pick up your pre-ordered bins and barrels at the Creek Bend Nature Center at the LeRoy Oaks Forest Preserve (37W700 Dean St., St. Charles) from 3 - 6 p.m. Tuesday, May 16.
Visit Kane County Recycles or Sustain Kane for more information, and reach out to KleeIvy@co.kane.il.us with any questions.