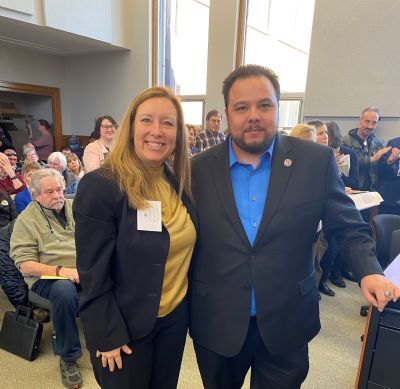 Kane County Recognizes Employee Who Received the Purple Heart
Kane County Connects Staff 3/17/2023 6:00AM
Anthony Ortiz works in the Kane County State's Attorney's Office as Director of Operations.  But there was a larger role this hardworking individual played in protecting the U.S. that recently earned him a long overdue honor.  His path to his current role uncovers much more about this hardworking individual. 
At the March meeting of the Kane County Board, Oritz was singled out for receiving the Purple Heart.  Purple Heart medals are awarded to active U.S. military service members who are wounded or killed as a result of enemy action.
Oritz, a Marine from the 3rd Battalion in the 5th Regiment, was injured riding in a security patrol vehicle that was hit by a rocket-propelled grenade in Afghanistan in 2010.  
Oritz was part of the battle in Sangin, Afghanistan, considered one of the bloodiest American battles.  His unit lost 25 Marines.
Ortiz's medal presentation was delayed by 12 years after paperwork summitted on his behalf was lost.  
This month, however, that delay ended and Ortiz- with his family by his side- was awarded the Purple Heart during a ceremony in Elgin.
"I want to honor my 25 brothers who did not come home with me when we left Sangin back in April of 2011 and the hundreds who were wounded and received the same decoration I received," said Ortiz.
Ortiz was invited to the March Kane County Board meeting where he was met with a standing ovation after Kane County State's Attorney Jamie Mosser explained his role in her office and his military service, including the recent awarding of the Purple Heart.