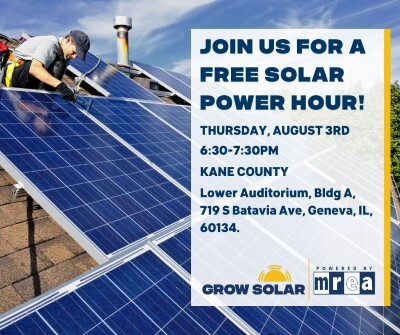 Join Kane County for a 'Solar Power Hour' Learning Session!
Kane County Connects Staff 7/27/2023 6:00AM
​
Reduce your energy bills while supporting the local economy and creating a healthier environment by going solar.

Property owners in Cook, DuPage, Kane or Will counties can attend a free 'Solar Power Hour' event to learn more about a program that makes solar power more accessible and affordable.
Kane County is holding a 'Solar Power Hour' event at 6:30 p.m. on Thursday August 3, 2023 in the Kane County Government Center Auditorium located at Building A, 719 S. Batavia Ave., Geneva, IL, 60134. There will be light refreshments.
During the session, the basics of solar power, its energy saving benefits and how a local solar group purchasing program can lower the cost of installation, will be discussed. Afterwards, participants can schedule a free, no-obligation site assessment/cost estimate.
To learn more and find out how much you can save, visit SolarSwitch.com/KaneCounty​.
To learn more about the program, contact Courtney Berg-Meyer meyercourtney@co.kane.il.us or 630-232-3497.