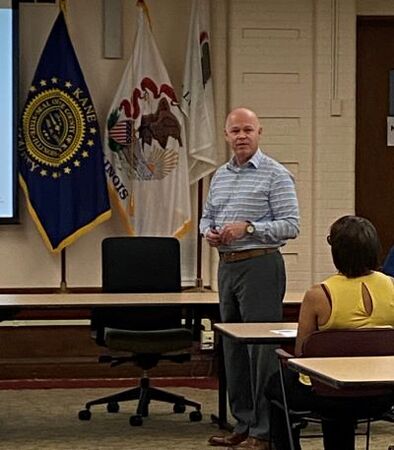 Kane County Hosts First Veteran PTSD Training for Law Enforcement Agencies
Kane County Connects Staff 8/24/2022 1:00PM
​
Twenty officers from 12 different local, state and national law enforcement agencies recently attended training at the Kane County Government Center campus to understand how to better help struggling veterans.

The training session was a result of work by the Kane County Veteran Suicide Prevention Task Force.  The Kane County Veterans Commission and the Kane County Sheriff's Office are both task force members.
"The task force has been busy conducting outreach in various ways and this is one we thought could have a widespread impact," said Jake Zimmerman, Superintendent of the Kane County Veterans Commission. "The VA has started this new training program to train police departments on strategies to help improve outcomes for veterans in crisis in our community."
During the training session, law enforcement agencies were provided information on VA resources available to police departments. The first four hours was conducted by the VA's Veterans Integrated Service Network-12 (VA Great Lakes Region) police chief as well as social workers from the Edward Hines Jr. VA Hospital and Jesse Brown VA Medical Center.
Judge Marmarie Kostelny and Probation Officer Phil Wessel from the 16th Judicial Circuit's Veterans and Servicemembers Treatment Court also shared information about what the Veterans Treatment Court program is, and how veterans in the criminal justice system can access this resource.
The following agencies attended Friday's training event:
•           U.S. Department of the Treasury
•           Illinois Attorney General's Office
•           Illinois State Police
•           Kane County Sheriff
•           Kane County Forest Preserve District Police
•           Elgin Police Department
•           Aurora Police Department
•           Batavia Police Department
•           Geneva Police Department
•           Freeport Police Department
•           Waterman Police Department
•           Waubonsee Community College Police Department