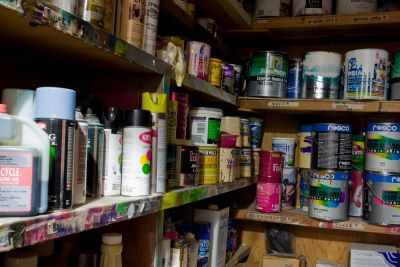 Collection of Household Hazardous Waste Suspended at Naperville Drop-off
Clair Ryan, Kane County Recycling Coordinator 8/24/2022 6:00PM
​In Kane County, we are relatively close to a permanent IEPA-sponsored household hazardous waste (HHW) drop-off.  One is located at the Department of Public Works facility in Naperville. While Naperville might be far to drive for some Kane County residents, consider that there are only four permanent HHW drop-offs in the whole state, so it could be a lot worse!
A fire at a HHW processing plant in Ohio has forced the Naperville drop-off site to temporarily suspend collection of certain materials until repairs to the Ohio processing plant are completed. The Naperville site is unable to accept pesticides and fertilizers, aerosol cans, asbestos materials, batteries (other than car batteries), household cleaners and drain openers, and pool chemicals.
Kane County has a solution for aerosols. The County accepts them year-round at the Batavia and Aurora recycling centers and will also be accepting ​them at our October 8 recycling event (note: there is a cost of $1/aerosol item charged by our recycling partner). Rechargeable batteries for home electronics and yard equipment can be recycled for free through most major hardware store chains, including both Lowes and Home Depot.
Unfortunately, due to lack of disposal options, homeowners may need to store the other items for longer than they had anticipated. These chemicals should not be disposed of in regular trash or recycling or by pouring down a household drain or storm drain. It is important that any HHW be stored in tightly sealed containers, out of reach to children or pets, and away from extreme temperatures and open flames.
It is anticipated that the Naperville site will be able to return to normal by the end of 2022. In the meantime, site users are strongly encouraged to use the City of Naperville's website to check on item acceptance and center hours before planning a recycling trip.
At the time of writing, our HHW home collection program, primarily serving the northern portion of the County, has not been impacted. Please see our website for more program details and eligibility.