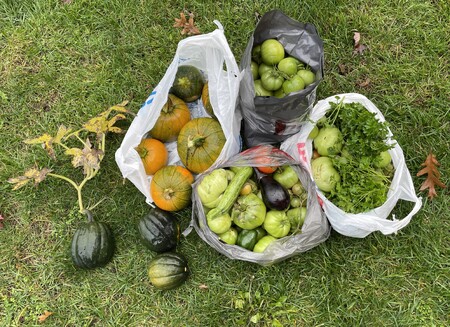 Kane County Government Volunteer Garden Serves Up Another Year of Bountiful Donations
Kane County Connects Staff 11/13/2023 6:00AM
​​


The Kane County Government Volunteer Garden has donated a total of 1,725.25 pounds of healthy vegetables and herbs in only two years, no small feat by any measure.
In addition, this year the garden was selected as the Healthy Futures category winner in the Governor's Hometown Awards program, which gives formal recognition to those who contributed to projects that improved their community's quality of life.
In its inaugural year in 2022, the Volunteer Garden grew an abundant yield with 1,031 pounds donated to the Batavia Interfaith Food Pantry (www.bataviafoodpantry.org). This year, the food pantry was the recipient of another 694.25 pounds that included different varieties of tomatoes and peppers, pumpkins, summer squash, zucchini, acorn squash, eggplant, cilantro, basil and parsley.
Kane County staff volunteers developed and maintained the 24-by-24-foot garden plot on the Geneva campus, and then made weekly deliveries of their harvest to the food pantry.
Garden team volunteers are already planning how to add variety to next year's harvest, with the possible addition of spaghetti squash, green beans, snap peas and other tweaks to the current offerings. They also discussed vegetables that didn't quite reach their full potential (see eggplant photo).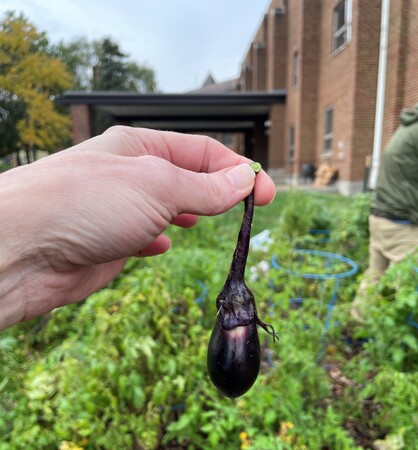 "I wouldn't say the eggplant was a huge success, so maybe more peppers and some hot peppers instead of those," said Clair Ryan, Recycling Coordinator. "In addition, I think we should change the mix of cherry tomatoes to larger types. We had a lot of cherries and not many Roma tomatoes this year," she said.
Kurt Lebo, co-creator of the garden, said he was pleased with the outcome of its second year, and looks forward to a third successful growing season in 2024.
"Our goal was to give back to the community and also establish campus camaraderie with County employee volunteers.  We have been successful in each but are always looking to expand our volunteer base."