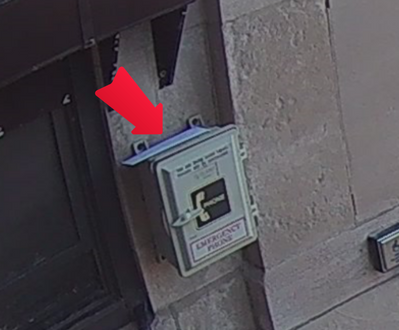 An Envelope in the Wrong Place Ends Up in the Right Hands
Kane County Connects Staff 1/25/2023 3:00PM
​

An envelope containing a sizeable amount of money was left outside the Government Center in Geneva on a Sunday, a day the County is not open for business.
The envelope was left by a man who put it on top of an emergency phone next to the entrance of the building and walked away. (see photo)
The County Government offices didn't reopen until Tuesday January 17 because of the Federal holiday, and it was a day that started with an urgent call to the Treasurer's office from the man who left the envelope about whether the office had received his payment. 
When staff from the Treasurer's Office went to search for the envelope, they discovered it was gone. The staff member immediately requested security personnel to review camera footage of the door from the weekend.
So where did the envelope go?
Security footage revealed that 40 hours after the man left the envelope, the wind blew it and it landed at the threshold of the door entrance on the morning the County building was set to reopen for business.
And that's when Kane County's mail clerk arrived on scene. She arrived early to work and noticed the envelope on the ground at the entrance to the Government Center.  She picked it up and knew exactly where it belonged and delivered it to the Kane County Treasurer's Office mailbox. 
"There are only 20 people on this campus that would've known what to do with it," said Marcus Smith, Kane County Director of Capital Projects.
Note: (County hours of operation are M-F 8:30 a.m. – 4:30 p.m.).