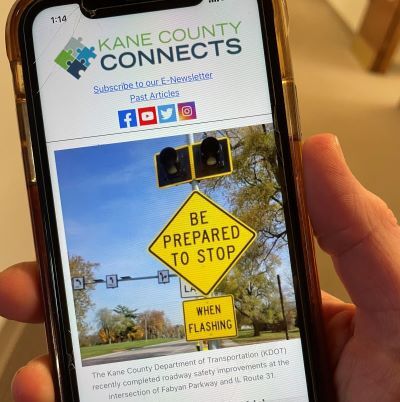 Subscribe to Kane County Connects
Kane County Connects Staff 6/30/2023 8:00AM
​

Subscribe to the biweekly Kane County Connects newsletter, providing a unique blend of free curated and creative content right to your inbox. 

Whether you're a lifelong resident or new to the area, stay up-to-date with what's happening around Kane County by subscribing to Kane County Connects.
The twice-weekly newsletter provides creative and original content about what's happening in Kane County Government along with curated news and events from Kane County municipalities, townships, schools, businesses, not-for-profits, and other organizations.
Whether you live in Algonquin, Maple Park, Aurora, Elgin, Pingree Grove or Sugar Grove, the Kane County Connects editorial staff works to ensure that every newsletter provides content that will appeal to people across the County, and not just one demographic or location. 
Signing up is easy; just visit http://www.countyofkane.org to see the latest Kane County Connects headlines and CLICK HERE​ to subscribe!

​