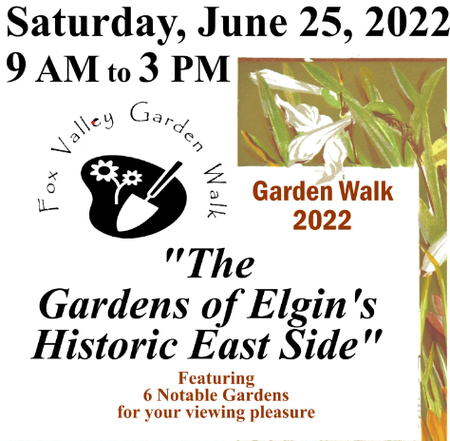 Fox Valley Garden Walk Supports Area Scholarships for Women
Kane County Connects Staff 6/10/2022 3:00PM
Join the sponsoring Elgin Area American Association of University Women as they host a "New Beginnings" garden walk through the historic neighborhoods of Elgin.  The North End Neighborhood Association highlights the Gold Coast gardens of Elgin while the Gifford Park Association, the oldest Elgin neighborhood group, features gardens of Victorian vintage.  An additional attraction will be the Butterfly Gardens on Douglas Ave.

The six gardens, easily accessible with the ticket map, will demonstrate the uniqueness of the gardens and also the characteristics of the neighborhoods.  One of our participating hosts describes her garden as a labor of love, a project which was lovingly shared by her husband.  Two Burr Oaks dominate the back area and offer some protection from gardening with a dog.  One of the oldest gardens featured on the walk is developed into four plots to reflect the historic house (built in 1887) which occupies the large corner lot.  

Gardeners are a tenacious breed as one yard testifies to a rebirth after a loss of thirty boxwood shrubs.  This particular gardener has had no professional help and has designed, purchased and planted every plant and shrub.  Another gardener with a very deceptive backyard which overlooks a creek says "We love our yard and feel it's like going on vacation to come home."  The historic house and garden in the Gifford Park Neighborhood is located on a small city plot.  This garden has evolved into an oasis defined by unusual landscapes highlighting a water feature.  Many Elgin residents would recognize this lovely house and garden as the former  Clarence and Nina Reber home.  Two of our local artists, Susan Massion and Jean Pechtel, will be painting "plein air" at two of the garden sites.​​

Tickets will be available beginning June 1st at the local Elgin Ace Hardware stores and at the local Elgin Jewel Osco stores.  Tickets will also be available at Heinz Brothers Nursery in St. Charles.  Tickets are $18.00 presale and $20.00 on the day of the walk and will be available at each garden site. 

In addition, those interested in attending may also purchase their tickets online at Eventbrite​.