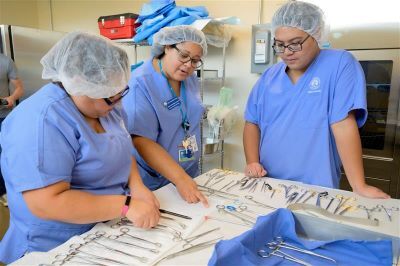 ECC Awarded $695,000 Grant to Address Shortage of Healthcare Workers
Kane County Connects Staff 11/5/2022 6:00AM
​

Elgin Community College (ECC) has been awarded a $695,000 state grant to address the shortage of workers in healthcare.   T​he State of Illinois Pipeline for the Advancement of the Healthcare Workforce (PATH) Program addresses the shortage of workers in health care, which has been exacerbated by the COVID-19 pandemic.
The PATH Program expands opportunities for individuals to obtain credentials and degrees in select health care fields and provides​ current health care systems the ability to upskill or reskill their workforce. PATH provides extra wrap-around support, like tuition assistance, textbooks help, and child care, for qualified students pursuing credentials for in-demand health care careers.
"Graduates of ECC's health professions programs readily find employment, and there are not enough graduates to satisfy the needs of local employers," said Lauren Nehlsen, PhD, associate dean, recruitment, outreach services, and global engagement. "The goal of PATH is to remove barriers and encourage more people to train for and enter health care fields."
Nineteen current ECC health profession programs qualify for PATH, with another three short-term training programs being offered through ECC's Workforce Development Division. Some programs can be completed in six months or less.
The program is open to both new students and current health care workers looking to reskill or upskill. ECC is hosting multiple information sessions throughout the winter to help interested individuals understand PATH and determine if they qualify.
Learn more about which programs are PATH-eligible and register for an information session at https://bit.ly/3TNBGRe. Both in-person and virtual sessions are available.
SOURCE:  Elgin Community College media release.