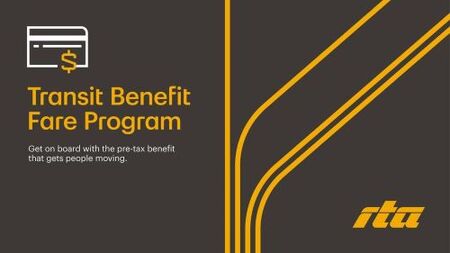 Commuters Savings Possible Through New Transit Fare Program
Kane County Connects Staff 9/15/2023 6:00AM
​
​​​Workers who use public transit to commute to their job could be entitled to a new benefit resulting in up to a  40% savings on transportation costs starting next year. 
The RTA Transit Benefit Fare Program is a pre-tax benefit program that allows employees to pay for transit and parking using pre-tax dollars.​
By State law, employers with 50 or more full-time employees located within a mile of fixed-route transit service inside the six-county RTA region – such as a CTA or Metra station, as well as a CTA and Pace bus stops – will be required to offer their workers these new benefits starting January 1, 2024. 
According to the RTA, because of the pre-tax nature of the program, enrolled companies can see up to 7.65% in payroll tax savings
Employers who enroll through @ChicagoRTA before December 31 using promo code TRANSIT2024 can save on their first month of fees.
To learn more about the RTA Transit Benefit Fare Program, visit http://www.mytransitbenefit.com​/.