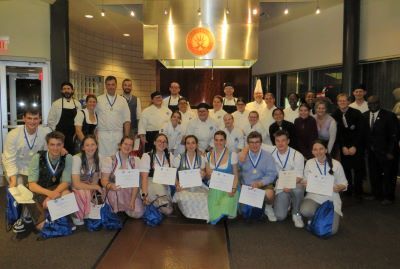 Austrian Chef Visits ECC Culinary Arts Department
Kane County Connects Staff 10/22/2022 6:00AM
​
The Elgin Community College (ECC) Culinary Arts Department held a Visiting Chef Event with Chef Gerhard Fuchs on October 13, in the Spartan Terrance Restaurant. The event showcased the partnership between Tourismusschulen school in Semmering, Austria, and the ECC culinary department, which goes back more than 30 years.

Chef Gerhard Fuchs, a former member of the Austrian national cooking team, worked side by side with ECC culinary arts and hospitality students to prepare a four-course Austrian-themed dinner with two wine pairings. The menu featured chanterelle mushroom with poached egg and walnuts; beef consomme with carrots, celery, leeks, and chives; braised shoulder and tender filet of venison with plum brioche dumpling and savory cabbage; and a Viennese-style blueberry pancake.
Ten of Chef Fuchs's culinary students traveled with him for the event. As part of the exchange, a group of 10 ECC culinary students will travel to Austria in the spring, including culinary student Wilna Francois. "It was really amazing to see the head chef and the different recipes they make and how they make them," said Francois. "Seeing the Austrian students, the way they work and dress, was a great experience. They were all so talented and nice."
Chef Fuchs graduated from tourism school and spent time abroad in his former position in gastronomy. Afterward, he passed his master chef's examination and was on the road for the Austrian national cooking team, later becoming a teacher at the Semmering Tourism School, where he continues to teach cooking and nutrition today. 
From 2012 to 2022, Chef Fuchs and his wife successfully managed the Steinfeldsentrum Breitenau restaurant and, in 2017, founded the GeMa besser essen restaurant in Austria.
For more information about Spartan Terrace Restaurant, visit elgin.edu/spartanterrace.

SOURCE:  ECC media release