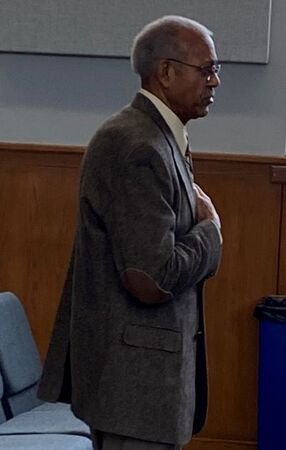 Army Veteran Leads County Board Pledge of Allegiance
Kane County Connects Staff 2/15/2023 6:00PM
​
Army veteran ​David Moore of Aurora was the invited guest to lead the Kane County Board in the Pledge of Allegiance prior to the full board meeting on February 14, 2023.  
Mr. Moore, who has been in public service for 39 years, was introduced by County Board Member Ron Ford.   
An Army and Army Reserve Veteran, Moore served in the Vietnam and Persian Gulf Wars.  He has served the citizens of Kane County as a Deputy Sheriff, State's Attorney Special Criminal Investigator and Kane County Coroner, making him the County's first African-American countywide office-holder. 
Currently, he is a Trustee for Aurora Township. 
​