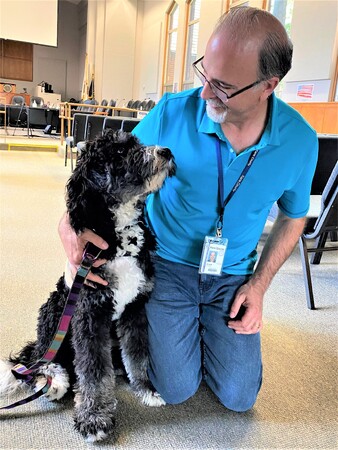 There's a New Dog in Town: Meet Frisbee
Kane County Connects Staff 7/25/2022 8:00AM
For a second time, the Kane County board room is doubling as a classroom for a specialized dog who is learning how to assist disabled individuals with everyday activities.
Frisbee, a 7-month-old Bernese Mountain/Poodle mix, tags along with Kane County Technologies Coordinator Blair Peters during his workday.

Peters volunteers for the VIP Service Dog Foundation (
www.vipservicedogfoundation.com
), whose mission is to provide affordable service dogs to individuals with disabilities.
Frisbee has been in training with Peters for about five months and attends upwards of 15 board meetings a month. Peters says the sounds, movements and activity in the Kane County board room during meetings has proven to be a good place to teach the dog to ignore his surroundings and focus solely on Peters' commands.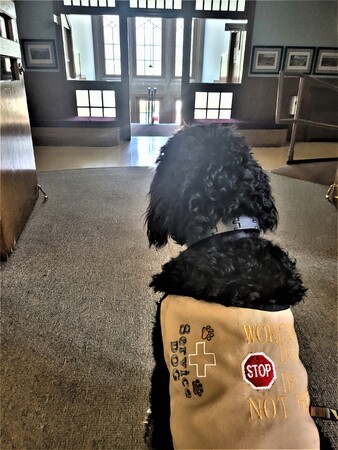 The first dog Peters trained using the Kane County Board room was Gremlin, who is now in a home assisting a child with disabilities. When asked about giving up Gremlin after 8 months of training, Peters said it was emotional. "Yes, it was hard but he had a much bigger purpose," said Peters. "Working with the person he was placed with made it easier. I knew he was going to be loved and make a huge difference in that person's life."
The VIP Service Dog Foundation that Peters volunteers with to train dogs like Frisbee and Gremlin is currently looking for what he calls "puppy raisers." He says those are volunteers to take the organization's youngest members home and teach them the basics: how to walk on a leash, potty training etc. Peters says it's crucial to have the "puppy raisers." He says if there is no one available to be a puppy foster the organization has been forced in the past to turn down a donated puppy.
He says the VIP Foundation has also been working to make service and support dogs available to disabled veterans with no fee.