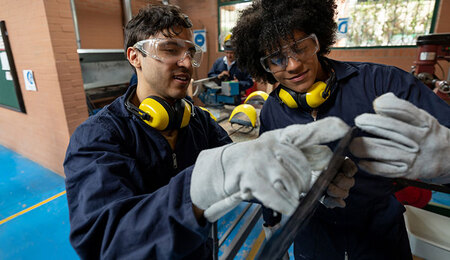 Nuts, Bolts & Thingamajigs Awards Over $1.2 Million in Scholarships
Kane County Connects Staff 10/29/2022 6:00AM
Interest in manufacturing careers continues to be on the rise as the Nuts, Bolts & Thingamajigs® Foundation (NBT), located in Elgin, reports receiving more than 480 new applications for scholarship opportunities in 2022.
Twice each year, the scholarship program provides awards up to $3,500 for students pursuing degrees, certifications, or skills training that will lead to manufacturing careers. Over the last 32 years, the foundation has awarded more than $1.2 million in scholarships.
"For us, this is a clear sign that the future workforce of our country is prioritizing careers in this thriving sector," said Ed Dernulc, NBT Foundation Director. "We are overwhelmed and honored to have this many students apply for scholarships as they pursue their dreams in this field. The quality of the applications we received clearly demonstrate the students' passion and dedication to becoming lifelong contributors to the manufacturing industry."
In 2022, 55 scholarships were granted as students began their post-secondary education in fields such as metal fabrication, machining, welding engineering and many more. The 2023 spring recipients will be announced in December.
For more information, please visit: https://www.nbtfoundation.org/scholarships
About Nuts, Bolts & Thingamajigs:

To keep manufacturing in America vital, the industry needs a workforce that is increasing in numbers and prepared to keep pace with advances in technology. Nuts, Bolts & Thingamajigs has responded to the call with programs designed to fill the pipeline of skilled workers.
Manufacturing camps reach students at a young enough age when their career choices can be influenced, and their education can include the foundational training necessary to excel. NBT scholarships assist and support those post-secondary students who have already discovered manufacturing and want to pursue the advanced training needed for industry careers. From its beginning through today, the NBT Foundation has maintained a focus on developing the next generation of manufacturers.
Source: Nuts, Bolts & Thingamajigs News Release