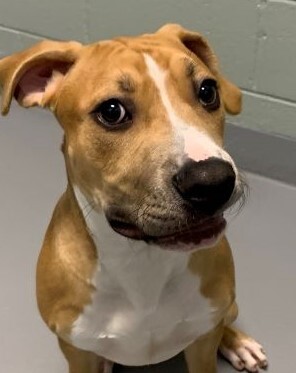 Kane County Adoptable Pet of the Week: Blue
Adoptable Pet of the Week by Tecla Metzel of Kane County Animal Control 8/15/2022 9:00AM
If Blue, a 5-month-old, neutered brown and white male Pit Bull terrier, could tell you his name he would, but he's too busy wiggling his butt and asking for everyone in the room to pet him. He was an owner-surrender, evidently proving too much effort for his original family.
Hopefully, it wasn't because of his adorable personality and cute face that will melt your heart the first time you meet him. It was probably his energy level, which goes from zero to high speed in a millisecond.

Not everyone knows this, but there is a special place on earth that hands out a measure of cuteness and "love-ability" to all animals. And if you believe in that special place, then you can also believe that Blue received more than his share of adorable cuteness-dust because he just exudes it! And we're sure no dog could wiggle his butt that much in a day, but somehow he manages both with barely a lift of his tail.
All of his puppy energy is displayed each and every moment of each and every day. His butt doesn't stop wiggling even when he eats! In fact, he'll walk away from his bowl to visit with a staff member while he's in the midst of eating. Isn't he Mr. Social? Blue enjoys playing with soft toys, especially the ones that squeak. The staff is teaching him the "drop it" command, but sometimes he ups the game by playing tug with the toy all the while wiggling his you-know-what!
He seems fine with other dogs, but larger dogs seem to scare him a bit, so proper training and socialization are definitely strongly recommended for baby Blue. Taking him for a walk is his dream play time, but he will need additional training to walk obediently by your side. It doesn't take much for Blue to go over the top with excitement. So, as he gets bigger, and he will get bigger, his owner will need to know how to work with his energy by playing games with him or taking him for a short run.
A tired dog is a dog that will listen and learn! Blue is just beginning his life. Luckily, he has a very positive attitude toward his current circumstances. He is such a cuddly, adorable little boy, so willing to please and give life his all.
We as humans can learn from Blue. He learned at a very young age that life isn't easy, but he hasn't let those circumstances take away his zest for the moment he's living in. If we as humans crave that which we have not found, then maybe a dog like Blue is just what we need. KCAC Update
Congratulations to Snickers, the brown, 1-year-old medium-sized mix-breed with the cutest under-bite you'd ever seen, who found his fur-ever home. Snickers loved playing with squeaky toys and we're sure he's living up to his full potential as a squeaky-toy hoarder. Such a sweet dog who stole our hearts immediately! We're so happy for you, Snickers!
How to Adopt For more information regarding Kane County Animal Control's adoptable animals and for an adoption application, please go to www.kanecountypets.org.
All Kane County Animal Control adoptable cats and dogs are spayed/neutered, microchipped, up-to-date on all vaccines including rabies. They are tested for feline leukemia/FIV and heartworm. The adoption fee for dogs is $200 and $100 for cats.
Adoption of two dogs is $300 and it is $150 to adopt two cats.
KCAC's Adorable, Adoptable Pet of the Week is written by Tecla Metzel of Kane County Animal Control.
"It's just the most amazing thing to love a dog, isn't it? It makes our relationships with people seem as boring as a bowl of oatmeal." – John Grogan, author Marley and and Me: Life and Love With the World's Worst Dog